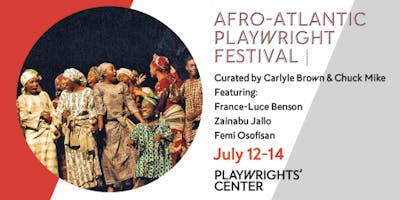 AAPF: Roundtable Discussion
Roundtable discussion with Carlyle Brown, Chuck Mike, France-Luce Benson, Zainabu Jallo, and Femi Osofisan. 
The Playwrights' Center is pleased to announce the Afro-Atlantic Playwright Festival which will take place this July. The festival, free and open to the public, has been created in partnership with the Carmago Foundation's Cultural Diaspora Program. While at Camargo, fellows had the opportunity to meet African-European artists, work with local theater students, and participate in a roundtable discussion entitled "African and Afro-Descendent Writing," which was presented as part of the Festival de Marseille and Massilia Afropea. The three-day event will include readings from three participating playwrights, workshops, and a panel discussion. 
Curated by playwrights Carlyle Brown and program director Chuck Mike, the event will address various conceptual and cultural facets of African diaspora studies and their impact on playwrights from around the world. From the eight participating playwrights, three will be included in this festival: France-Luce Benson (New York City), Zainabu Jallo (Bern, Switzerland and Nigeria), and Femi Osofisan (Ibadan, Nigeria). The festival is made possible with kind support from the Venturous Theater Fund.