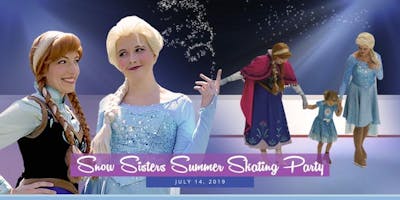 Snow Sisters Summer Skating Party 2019
Need a break from the heat of July? Join the Snow Sisters and their friends to cool down at a Summer Skating Party!
Non-skating guests enjoy rink-side viewing of the Royal Skating Lesson and mini-performance, storytime, and off-ice character interactions and photo opportunities.  
Those interested in skating with the Snow Sisters can participate in the Royal Skating Lesson, show off their favorite moves for royalty during exclusive ice time, plus enjoy on-and-off ice photo opportunities (inexperienced skaters must be accompanied by an adult). It's a favorite event for first ice skating experiences!
Whether you need an escape from the heat, a warm hug from the Snow Sisters, or an inspiration to dig out your skates, you can't go wrong with the Summer Skating Party!
Tickets are only available online in advance and attendance is limited to ensure everyone gets character interaction time, so get your tickets now!
**Please note there will not be tickets available at the door for this event. Skate rental is available from the rink for $6, if needed.
_______________________________________________________
All guests need a ticket to attend, except for infants under the age of one. Tickets are transferrable but nonrefundable. Children must be accompanied by an adult guest.
Purchasing a ticket gives permission for Occasions with Character to potentially publish photos/video of your party on social media and use for promotional purposes.
Occasions with Character reserves the right to cancel events due to weather, low-attendance, or other cicumstances that render it inoperable. Tickets will be refunded should this occur.