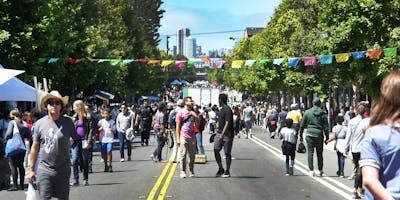 2019 Livability Summit & Awards Brunch
Taking place during Sunday Streets Mission at The Chapel on Valencia Street, the 2019 Livability Awards Brunch & Summit is your chance to see Sunday Streets from the inside-out, socialize, savor a cocktail, experience thought provoking discussions, and enjoy 1+ miles of car-free fun all in the same day!
Support Livable City's important work, including Sunday Streets, by purchasing the VIP Experience which includes entry to the VIP Brunch Reception with delicious brunch bites, hosted mimosa bar, and private lounge access all day.
Or RSVP to the public program and help spread the word about the FREE 2019 Livability Summit! 
THE EXPERIENCE
Between 10am-12pm, VIP ticket holders enjoy access to the Brunch and Awards reception in The Chapel's open-air, heated patio restaurant, The Curio. Savor brunch bites and raise a glass from the hosted mimosa bar in celebration of the 2019 Community Leader Awardees, all while Valencia Street transforms into a car-free recreational space.
After brunch, gain early access to the beautiful Chapel Theater to bid on items from the 3rd Annual Explore Local Silent Auction featuring unique experiences and gifts from San Francisco's finest small businesses.
At 12:15, the event transitions into a speaking program open to the public, encouraging the greater Sunday Streets community to learn, think, discuss and dream big about how transportation, housing and public health solutions can become more equitable and sustainable for everyone.
During the public program, VIP ticket holders can head upstairs to the private mezzanine, complete with hors d'oeuvre buffet and private no-host bar to enjoy the program or outdoors to partake 1+ miles of car-free fun at Sunday Streets.
SCHEDULE
10:00am-12:00pm: VIP Brunch & Community Leader Awards Reception
12:15pm-1:00pm: Panel Discussion, Dreaming Big On Shared Mobility
1:15 - 2:00: Lightning Talk Presentations, 2019 Community Leader Awardees
2:15pm-3:00pm: Keynote Conversation, At The Intersection of Transit and Public Health
SPONSORSHIP INFORMATION
Get in front of thousands of San Francisco residents and some of the Bay Area's brightest movers-and-shakers from the public, nonprofit, and private sectors all in the same day. Highlight your organization's civic spirit by sponsoring the VIP Brunch experience or one of the engaging public discussions that will be publicized to the 20,000+ attendees who fill Valencia every Sunday Streets.
Email sponsors@livablecity.org for more information or click here to view the 2019 sponsorship packages.