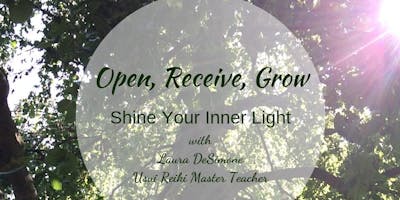 Open, Receive, Grow ~ Shine Your Inner Light
From Laura ~ These three words came to me one day just after my Dad passed away. My heart had been broken open and my spiritual life went into overdrive. I was tuned into something larger than me, a force of Love and light. The process which I named Open, Receive, Grow has been with me since that day. This enables me to continue to grow and love in ways that I never knew were possible. The Sufi poet Rumi once said, "Your task is not to seek for love, but merely to seek and find all the barriers within yourself that you have built against it." My intention for this class is to show you that you are wise and wonderful, and to give you a glimpse of who you really are.
The class will be a blend of instruction, reflection, and meditation. Come prepared to meet yourself wherever you are in your journey inward, to your soul, to yourself. Inside you are all the answers and all the love you need to live an amazing life.
Please bring a mediation pillow or cushion, a blanket, and your favorite notebook and pen. You will leave with a beautiful rose quartz heart which will help you remember and use the forgiveness process steps.
· Wear comfortable clothes
· Meditation pillow (or cushion) & blanket
· Journal and your favorite pen for class notes
Laura DeSimone, Usui Reiki Master Teacher
~~~~~~~~~~~~~~~~~~~~~~~~~~~~~~~~~~~~~~~~~~~~~~~
~ Doors will open at 12:30
~ Light Refreshments will Be served
~ Reservations are required through EventBrite.
~ If you are not able to pay with a credit card please, or have any questions, please contact Sue at SueWachta@Gmail.com
~ Class Registration: $65