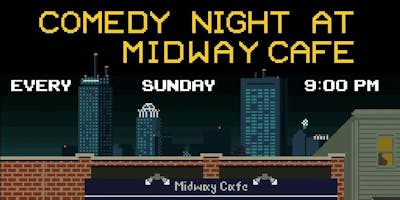 Midway Or The Highway Comedy
NO COVER!
The Midway Cafe presents:
EVERY SUNDAY NIGHT!!!
COMEDY AT THE MIDWAY!
Visit us at www.midwayorthehighway.com for more details
9PM TIL LATE.
21+
Ever wondered what hilarious comedians from big fancy TV shows do the rest of the week? Sometimes they appear at your neighborhood bar! The funniest in New England and beyond can now be found in the wilds of JP on every single Sunday night. Also featuring, cheap beers!
Even better, our show is also an open mic! There's lots of great comedians, but also musicians, poets, sketch performers, or storytellers, working out their kinks and developing their craft. If you're interested in performing at the mic, it's super easy. Just arrive, write your name down, drop it in the bucket, and next thing you know you'll be onstage! Sets are 5 minutes or 2 songs, depending on what you do. See you there!
There's always great shows at
The Midway Cafe
3496 Washington Street
Jamaica Plain, MA 02130
http://www.midwaycafe.com