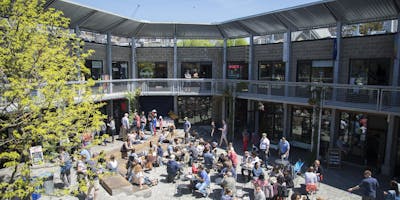 Bastille Day at Bow Market
La Fête Nationale comes to Bow Market on July 14th! In celebration of Bastille Day, we're doing our best Parisian impression and transforming our courtyard into an all-day picnic.
Guests can pre-order a picnic (limited quantity) curated by Alexandra Whisnant of gâté comme des filles and Lauren Friel of Rebel Rebel. Each picnic will include the essentials for an afternoon in the sun: a fresh baguette, fromage, two wine glasses, and a bottle of rosé. Picnics come in limited-edition Bastille Day 2019 Bow Market tote bags!  
As in France, alcohol will be consumed throughout the market, there will be a charming mime, and — for those up for a game — a pétanque court. We will have outdoor bars of rosé, bière, salade niçoise, huîtres, croissants, and more.
Joining the festivities from 12:00 p.m. - 3:00 p.m will be our friends from the French Cultural Center. Practice your French or learn more about their language programs by visiting their table or inviting them to your picnic blanket.
If you choose to pre-purchase a picnic, you'll be asked to choose a pick-up time of either 12:00 p.m. or 2:00 p.m.
A few more details:
Leashed dogs are welcome
Bring your own alcohol is not permitted
Smoking is not permitted
Alcohol consumption throughout the market will end at 6:00pm
One picnic is serves two people.