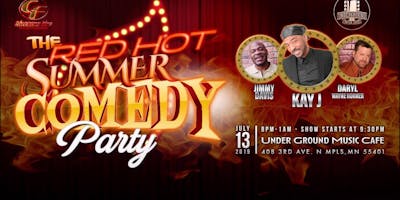 The Red Hot Summer Comedy Party
***THE RED HOT SUMMER COMEDY PARTY***
******DRINKS***MUSIC***LAUGHS******

Venue: The Underground Music Cafe"Mpls"
Doors Open At 8pm, Show Starts at 9:30pm!
2 For 1 Drinks From 8pm-9pm!
Smoking Patio With Music & Food! 21+
https://www.eventbrite.com/e/the-red-hot-summer-comedy-party-tickets-62893909376

Kelechi Jaavaid"K Jay", Jimmy Davis & Daryl Wayne Horner Have Team up to give the Twin Cities one of the Funniest, Hot Comedy Shows/Parties of the Summer! Get ready for non-stop Laughs, Music and Fun!

*******Comedians*******

Kelechi Jaavaid"K Jay"
-----------------------------
Ace comic K Jay the Comedian, aka, Kelechi Jaavaid could walk into an empty room and have a good time jump off. The seasoned veteran owns a singular, laid back style that turns a stand-up stage into his living room, the audience into his guests and the evening into a funfest of topical humor. K Jay has worked across the country, leaving delighted crowds in his wake. He's opened for such hot headliners as Lavell Crawford and Honest John.
www.kjaythecomedian.com

****Jimmy Davis****
-------------------------------
A Native of Chicago, He's been in the Twin Cities comedy
Scene for fifteen plus years. A nationwide touring act that's worked both coast.

**Daryl Wayne Horner**
-------------------------------
He's appeared with "HBO's Bad Boys of Comedy" & on "The Last Comic Standing"