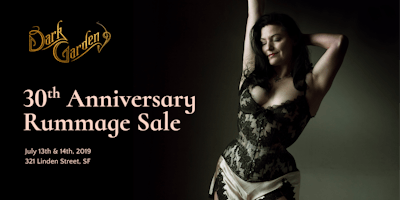 Dark Garden 30th Anniversary Rummage Sale & VIP Pre-Sale
The curviest event of the year is nearly here! Join us again for our famous Annual Rummage Sale, now a two-day luxury experience.
Entry to the Rummage Sale will once more be coordinated via ticketed groups on a timed entry system, as to reduce wait times for this popular event. We have a limit on how many people can be in the shop at one time, and will let everyone in as space allows. This may include walk-ups; however, those who pre-book their timeslot will have guaranteed entry at that time and will additionally receive 5% off their purchase of $25 or more.


The time on your ticket is the time we will start letting the first people from that group come into the boutique. We encourage you to arrive 15 minutes early for check in and a preliminary sizing assessment.


As to best insure that premier timeslots are not occupied by no-shows, there is a modest fee for early entry times, which can be applied as a coupon towards any purchases made at the Rummage Sale.


We are reprising the extremely limited VIP cocktail preview on Saturday night from 7-9pm.


10am on Sunday continues to be our early bird hour, with a smaller group getting first access to this year's offerings and a longer browsing time before the next group enters.


Premium tickets for Saturday evening are $150 and include individualized attention from elite staff, a non-shopping plus one, $50 credit, gift bag, cocktails, hors d'oeuvres, and 10% off new orders placed that night.
Here's what you can expect to find in the way of corsets at our rummage sale:  


Corset raffle! A single $5 ticket could win you a made-to-order corset from our Signature Collection


Lingerie raffle! Win a gorgeous black lace robe from Montelle. VIP and early birds receive a complimentary ticket. Additional tickets may be purchased by any group (or walk up attendees) for $5.


Unworn bespoke sample corsets, deeply discounted from their list price


Pre-loved corsets, sold on consignment from their previous owners


15% discount on floor stock corsets


Deeper discounts on select floor stock corsets


Fashion show & archive corsets and ensembles, including our Technicolor and Shades of Ivory collections


Tips for the best experience:
Please arrive at least 15 minutes prior to the time on your ticket so you can be sized while in line. We recommend wearing comfortable shoes while you wait, although feel free to bring heels or specific shoes if you want to try them on with your new corset!
We suggest you keep the following in mind when planning this year's shopping spree:
You may wish to call your credit card company ahead of time to alert them that you might be making a large purchase on July 15th
Only 3 corsets per person are allowed in the fitting room at a time
Only 5 corsets/items per consigner are allowed – total
We will not be answering phone calls during the Rummage Sale itself
This is not the best day to place an order – we suggest you come back during the week if you are interested in Bespoke or Made to Order
FAQs:
What should I wear to the rummage sale?
We recommend wearing comfortable shoes and lightweight clothing that will be easy to get in and out of when trying on corsets. Guests with long hair may want to consider wearing it up to facilitate corset fittings.
What size corsets will you have?
We have all sizes from 18" to 45"! The best represented sizes vary by year. All corsets are sized by corset waist.
What do you have besides corsets?
We'll have last-season garments and accessories on sale, fabric remnants from the studio, vintage patterns, and all manner of miscellany.
How can I enter my corset for sale?
If you've outgrown - or outshrunk - your old Dark Garden corsets, bring them in by July 1st to be assessed for consignment. You can opt to get cash or Dark Garden store credit if your corset sells at the rummage sale. Corsets must be dry cleaned and in good condition to be eligible; only Dark Garden corsets can be sold at our rummage sale.  Please email  retail@darkgarden.com  with "Rummage sale consignment" in the subject line to make arrangements for consigning your Dark Garden corset.
What does the time on my ticket mean?
In an effort to reduce long wait times for this popular event, we have introduced a timed entry system with reserved tickets! The time on your ticket is the time we will start letting the first people from that group come into the boutique; we recommend you arrive about 15 minutes early to check in. We have a limit on how many people can be in the shop at one time, and will let everyone in as space allows. Please understand that we cannot over-fill the boutique, and we aim to get everyone inside as quickly as possible.
What's the cancellation policy?
If you need to cancel your ticket, you have up to 24 hours prior to the Rummage Sale to do so. Within 24 hours of the Sale, all tickets will be non-refundable. We are unable to compensate for any no-shows or late arrivals.
I want to give my ticket to someone else. How can I do that?
While we do require your Photo ID at check-in to match the name on your ticket, we can still allow for tickets to be given as gifts!  Please send us an email with the first and last name of the person you want to give your tickets to.  
How can I contact the organizer with any questions?
Please email us at boutique@darkgarden.com.