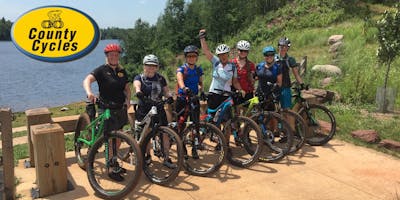 County Cycles 2nd Annual Women's Ride Camp at Cuyuna!
Join us at Cuyuna for 48 hours of fun-packed riding with ladies who love to shred and want to hone their skills!
Here's the schedule of events:
Friday:
4 pm depart County Cycles if carpooling. Please note: you are responsible for your own transportation.
6:30 pm welcome and introductions at the trailhead
7-8:30 pm short trail ride and social time
Saturday:
9 am - 10 am basic skills clinic
10 am -11:30 am group guided trail ride
11:30 am -1 pm picnic lunch
1 - 2 pm skills progression to intermediate level
2:30-4 pm small group ride sessions
4-5 pm trailside repair clinic and snacks
5:30 pm free trail ride time
7 pm dinner on own, free time
Sunday:
9 am intermediate skills instruction and practice
10:30 am -12 pm trail ride, stopping to session along the way
12 – 1 pm picnic lunch
1:30 – 4 pm scavenger hunt (with prizes!) and individual sessioning on the dirt
4:30 pm head home
Skills we will learn are as follows:

Basic skills:
Neutral/ready position
Bike and body separation
Braking
Cornering
Shifting 
Climbing
Intermediate skills:
Climbing/Descending dismount
Ratcheting
Small turns
Rock dodge
Switchbacks
Front wheel lift
Rear wheel lift 
Level lift
Pedal wheelie (woohoo!)


Trackstand
Rolldown lunge
Trailside Mechanic skills:
What to carry


Air Pressure (tires and suspension)
Flat repair
Brake adjustments
Derailleur adjustments
Our Coaches:
Ms. Bonnie Larson is the Liv Ambassador for County Cycles in Roseville, Minnesota, and is a coach with the Roseville Area High School Composite team. She holds BICP Level 1, PMBIA Level 1, and NICA Level 3 Coach/Instructor certifications. She coaches the coaches, folks, come learn from the best!
Miss Rea Kadera is a manager and mechanic at County Cycles. She holds a technician certification from Barnett's Bicycle Institute and has been wrenching from the age of 16. She has been telling County Cycles staff what to do since age 3, all while napping in the dressing room! Her favorite riding is done with her Border Collies running along or riding in the trailer. Her fall goal is a week long bike camping trip with her fuzzy monsters.
Julie Rieth fell in love with mountain biking while chasing her sons down the trail and discovered another great way to enjoy the outdoors.  A long time nordic skier, Julie assists with the Roseville Nordic ski team as well as coaching mountain biking, trail running, orienteering, and Nordic skiing with Endurance United Trail Kids and Women's sessions.  As a certified BICP Level 1 Instructor, Julie loves seeing the confidence of women grow as they learn new bike skills.  No matter the size of the tire, Julie loves pedaling fat, mountain and road bikes.
Tickets-
Red Shredder:  $249. Included in the weekend: lodging in a home near the trails, skills clinics, breakfasts, lunches, snacks, ride time, and FUN! In the home, we'll have a full kitchen, SHOWER, and laundry available.
Gnar Shredder:  For those who choose lodging elsewhere, $189 gets you in on food and all camp activities.
An email will be sent to registrants with address to lodging (if applicable) and a list of suggested items to pack.
Join us!