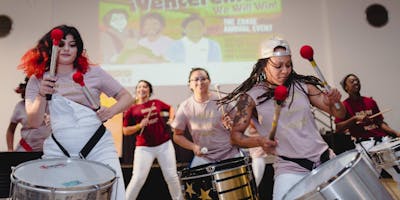 Summer Street Drumming for Womxn/Trans/GNC Folks 2019
Summer Street Drumming for Womxn/Trans/GNC Folks of Color
Technique & Rhythm
A summer workshop to build your Street Drumming aptitude!  Using Rhythms on drum will give participants an opportunity to explore street drumming performance techniques including call and response breaks, movement and song.
To ensure we are creating a welcoming and reprensetative space to participants, Summer 2019 registration is open to people of color [POC] w/ priority space for Black/African folk.

*Chilcare exchange support provided [participants take weekly shifts to support children in attendance]
Through weekly classes, learn new skills/rhythms, and share our collective experiences via drumming, play/movement and song. Holding values of social justice, creative expression and skill-building, this workshop is open to all levels of player from never-drummed to proficient drummer. We aim to create a welcoming space where Womxn, trans and gender non-confirming people can be loud, active, and inspiring participants of culture while building friendships and support systems for the movement.

Mondays 7/8 to 8/26
7:00-9:00pm
955 7th St., Oakland (Close to 880 freeway & West Oakland BART Station)
Play in the Park: Aug TBD with participants
Pride Parade
Sliding Scale: $0- $350*

Sliding Scale/Pay-What-You Can Options Available. To realize our efforts of providing free and accessible programs to folks that need it, please consider contributing at least the standard rate or higher or make a generous donation. Making a donation is an act of love, solidarity and commitment to justice.
Drum With Us
2019 Sessions


Winter Session: Drumluck (Ancestral Rhythms & Songs) | 1/28 to 3/18 


Spring Session: Drumming for the Movement-Take it to the Streets | 4/1 to 5/20 


Summer Session: Street Drumming Exploration | 7/8 to 8/26


Fall Session: Drumsical- Stage Performance | 10/7- 12/9


Events
Learn more and see our upcoming workshops and events on www.boomshakemusic.com