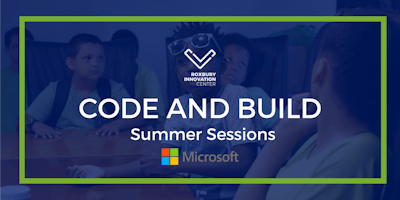 Code and Build Summer 2019 at Roxbury Innovation Center
CODE AND BUILD SUMMER 2019 SESSIONS
Session 1: July 8th - July 19th | (CLOSED)
Session 2: July 22nd- August 2nd | (4 SPOTS REMAINING)
Summer Sessions will take place on Monday – Friday, 9 am – 2 pm.
Open to ages 8 - 13
$60 per student, Free Light Breakfast and Lunch provided.
In these 4 sessions, students will learn the basics of coding along with the fundamentals of STEM education while learning Coding languages and creating Video Games. 
Please email Gia.manigat@vencaf.org for more information.
Sponsored by Microsoft