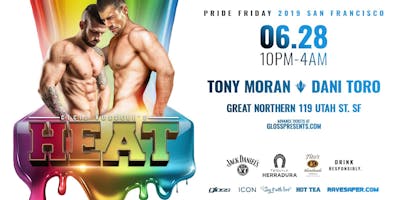 Heat Pride Friday 2019
Heat returns for Pride Friday 2019. 10pm-4am
International Dj's TONY MORAN and DANI TORO
At the Infamous Great Northern!
Amazing Visuals and Lasers for the Night! Acrobats and 6 Hot GoGo's
Limited VIp tickets include: Special VIP area, private bathrroom , 2 waters and Snacks, Express Entry.
Hosted by: Mr. Pam, Christeele, Fernando, Brian Johnson, Joey Mills, Daniel Blair, Roman, Carlos and Marco Ivan, Sergio.
Weekend passes available for HEAT and HOT TEA.
Sponsored by: Jack Daniels, Herradura and Tito's Hand made Vodka.