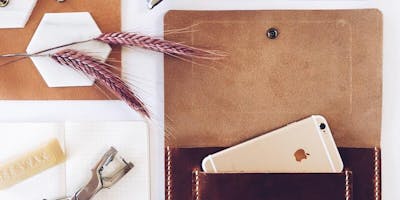 Leather LAB 1.0
This entry level class is designed to introduce the classic techniques of hand-sewing with leather. Students are able to choose from projects that demonstrate the basics of working with leather including cutting, punching, hand sewing, riveting, snap setting, finishing and care. Students will be guided through the process from hide to finished product – leaving the class with their very own handmade laptop case, clutch, or sunglass case and coin purse. Depending on what you are making, you might need the entire 2.5 hours, but some might finish earlier.
You will be able to choose your leather project by selecting the ticket option below. You can find images of each project on our website - click here. When you arrive there will be a variety of colors you can choose from (black, different shades of brown, tan and even a few bright colors).
MATERIALS INCLUDED
Vegetable Tanned Leather
Brass or Nickel Hardware
Linen Thread
All Tools Provided for Student Use
INSTRUCTOR
Dan Horan, the master mind behind Merchant Leather, is a completely self taught leatherworker. Drawing from traditional techniques as well as trial and error, Dan has developed his own unique style of designing and building high quality leather goods.
Merchant Leather is a designer and producer of classically styled, handmade leather goods. The goods are simply, yet timelessly designed and built for everyday use, for generations to come. Merchant Leather bags and accessories are made one at a time, entirely without machines, and proudly carried around the world. In addition, it works to pass on the tradition of working with leather by teaching students of all ages the basics of hand-sewing and design in classes throughout the Midwest. 
---
LOCATION
Please enter the building from the historic alleyway at 1629-1625 (door is across the alley from The Third Bird back entrance). Take the elevator to 3R and follow the signs to suite 300A. 
PARKING
Metered parking is available near LAB Headquarters or parking ramps are on each side of the Basilica, which is across the street from LAB Headquarters.
---
CANCELLATION POLICY
We are able to refund your LAB ticket up to two weeks prior to the event if you send an email to connect@labmpls.com. After the two weeks, we are unable to refund any ticket due to workshop demand and materials that have already purchased for your spot at the workshop. If you are unable to attend regardless, please let us know as a courtesy at least 48 hours before the event begins. Tickets are transferrable to another attendee, but not to a different date.
PLEASE NOTE
If we do not meet our minimum number of students we will have to cancel the LAB.  If a LAB is canceled you will receive a full refund.