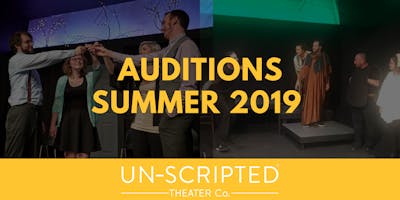 General Auditions
The Un-Scripted Theater Company® is holding General Auditions for the second half of its 2019 season. All of this season's directors will be looking for guests to add to our ensemble-based shows. Un-Scripted shows can vary from narrative-based improvised plays to more traditional improv comedy, so please be prepared to show a range of skills and grounded character work! 
When: Monday June 24th & Tuesday June 25th, 7- 10pm.  June 24th is for non-musical show auditions only. All shows are auditioning on June 25th. Sign up for 1 date only.
Where: Un-Scripted Theater Company, 533 Sutter Street 2nd Floor, San Francisco
What to expect:  We understand auditions can be stressful, but we strive to run our auditions more like rehearsals or workouts. We will warm up together and you will get multiple opportunities to get up and show us your best. Please be prepared to stay the entire time and get there a few minutes early so we can start on time.
What to wear/bring:  Dress comfortably in clothes you can move in. Feel free to bring a water bottle so that you stay hydrated!
We are looking for experienced improvisors. You should sign up if the following applies:  



Have at least 2 years of improv training and have performance experience




Familiar with improvised long form narrative and looking to get better at it




Looking to work with a tight knit ensemble




Bonus points if you have familiarity with improvised singing



If you're not sure if the above applies to you, or to sign up for our audition mailing list, email info@un-scripted.com.



Want to learn more about Un-Scripted?  Visit our website at https://www.un-scripted.com/ and check out our Facebook page at facebook.com/UnDashScripted. 
Show Descriptions & Schedules:
Mixtape - MUSICAL: Modern musical improv inspired by all the funniest, most awkward, adorable teen memories our audience can dredge up!R
Rehearsals: 7-10pm Tuesdays 7/11 and 7/23, Thursdays 8/1 - 9/19.
Performances: Saturdays at 10pm, 8/10 - 9/21
World Premiere - MUSICAL: Full length contemporary off-Broadway-style musical.
Rehearsals: 7-10pm Tuesdays, 8/13-9/17 (& 9/24 if needed) 
Performances: Fridays and Saturdays at 8pm, 9/13-9/28

Remote Control Freak: A full-length story in an exciting format where actors a remote control is used to jump around the story.
Rehearsals: TBD
Performances: Saturdays at 10pm, 10/5-11/16
Act 1, Scene 2: Local playwrights contribute the first scene of a full-length show which the actors do not receive until just before curtain. The actors continue to improvise in the style of the playwright. 
Rehearsals Mondays, 9/30 or 10/7- 11/18
Performances: Fridays & Saturdays at 8pm, 11/8-11/23

Wide World of Wizarding (improvised Harry Potter): Full-length longform show set in the world of Harry Potter.
Rehearsals: Thursdays October-December
Performances: Fridays & Saturdays at 8pm, Thanksgiving-Christmas
Holly Jolly Jamboree - MUSICAL: Short-form musical in the style of a cheesy holiday variety show
Rehearsals: TBD
Performances: Saturdays November-December, may be 6:30 or 10pm slot - TBD