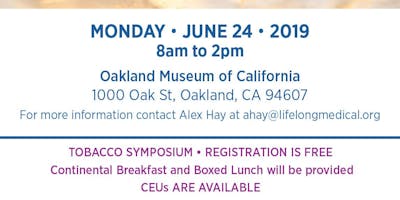 Vaping Nicotine: How safe is it for our communities?
Description The ATOD Tobacco Dependence and Treatment Training, A LifeLong Medical Care Program (ATOD) in conjuction with Alameda County Behavioral Health (ACBH), is pleased to invite you to the Tobacco Conference Vaping Nicotine: How Safe is it for Our Communities? on Monday June 24th, 2019. This conference is for all ACBH agencies and contractors, and is a great learning opportunity for managers, directors, youth leaders and direct service providers. We will be exploring the recent rise in vaping and how individuals and agencies can further address nicotine tobacco product dependence. ACBH and ATOD are committed to addressing and treating tobacco use disorder in all of our programs.

The conference will work to address:
·       What do we know about the health risk of new tobacco products such as vaping devices?
·       What is the effect of vaping and other tobacco products on vulnerable groups ?
·       How do new tobacco products change the impact of tobacco on public health?
·       Is vaping renormalizing smoking?
·       The history of the tobacco industry in the United States, tobacco use prevalence, and trends of tobacco     products and vaping?
·       What direction is the FDA taking on vaping devices and new tobacco products?
·       How do local TRL (Tobacco Retail License) sale restrictions help this public health issue?
·       Why does vaping attract young adults and youth?
·       Can you use vaping as a way to quit other tobacco products?
Our presentations and panel discussion will shed light on some of the unique challenges we face in addressing vaping and e-cigarette use. This dialogue is important given the rapid rise in vaping among youth and other vulnerable populations. Through a guided lecture, keynote presentation from Dr. Phillip Gardiner, panel discussion, and a working lunch that invites audience participation, symposium attendees will come away with shared working solutions on how they can address vaping and e-cigarette use on an individual and organizational level. Attendees will also gain access to networks, resources, and future trainings that can help them on their journey.
Keynote Speaker
We are pleased to announce Dr. Phillip Gardiner will be our keynote speaker. Dr. Gardiner received his Doctorate in Behavioral Sciences from the University of California at Berkeley, where he focused on Youth Violence as a public health issue. Throughout his research career, Dr. Gardiner has maintained his community activism to address racial disparities in health, through writing, organizing, evaluating and public speaking. For the past 15 years, Dr. Gardiner has lectured around the country on African American health disparities generally and menthol smoking in the Black Community, particularly. Currently, Dr. Gardiner is the Policy and Regulatory Sciences Program Officer for the Tobacco Related Disease Research Program (TRDRP), University of California Office of the President, where he oversees the scientific inquiry associated with e-cigarettes. Dr. Gardiner speaks regularly around the country on banning menthol cigarettes and regulating electronic cigarettes. In the Fall of 2013, he worked with the Chicago Department of Health to help pass a local ordinance, the first of its kind in the country, to restrict the selling of menthol and other flavored tobacco products within 500 feet of city schools. By 2015, the cities of Baltimore and Minneapolis began discussions on regulating menthol. Additionally, throughout 2014 and 2015, Dr. Gardiner was instrumental in shaping many local e-cigarette regulatory policies around the country, including the cities of Berkeley, Richmond, Chicago, Los Angeles and San Francisco. Lastly, Dr. Gardiner is Co-Chair of the African American Tobacco Control Leadership Council (AATCLC), a group of Black professionals dedicated to fighting the scourge of tobacco impacting the African American community in California and Nationally.
About the ATOD Program: ATOD Tobacco Dependence and Treatment Training is a LifeLong Medical Care Program contracted by ACBH and ACPHD that provides specialized clinical staff training and technical assistance to programs interested in enhancing their tobacco treatment services in Alameda County.
Our team (medical consultant Dr. Gurinder Singh Wadhwa, D.O., program manager Patricia Sanchez, MPH, and program coordinator Alex Hay) conduct evidence-based clinical skill-building trainings on how to best address and treat tobacco-use dependence within specific populations.
If you have questions about a future training, or wish to schedule an on-site training for your staff, please contact our program coordinator Alex Hay at ahay@lifelongmedical.org
 Breakfast, networking, and opening remarks 8am-9am. Presentations begin promptly at 9am and end at 12:45pm. Break from 11:15am-11:30am, and lunch and discussion from 12:45-2pm will not be counted toward CE time awarded.


To request reasonable accommodation or to file a grievance about an ACBH sponsored training, go to: http://www.acbhcs.org/training-calendar

This course meets the qualifications for 3.5 hours of continuing education credit for RNs by the California Board of Registered Nurses, BRN Provider No. 12040; for Addiction Professionals by the California Consortium of Addiction Programs & Professionals Education Institute (CCAAP_EI), Provider No. 4C-04-604-0620; for LMFTs, LCSWs, LPCCs, and/or LEPs as required by the California Board of Behavioral Sciences; Alameda County Behavioral Health Care Services (ACBHCS) is approved by the California Assoc. of Marriage and Family Therapists to sponsor continuing education for the target audience of this training, Provider No. 65749; and for Psychologists as an approved provider by the California Psychological Assoc., Provider No. ALA006. ACBHCS maintains responsibility for this program/course and its content. Please note: in order to receive CE credit, you must attend the full training and complete an evaluation.

Continuing Education Certificates will be emailed to qualifying training participants within 30 days of the training.

Training Calendar – BHCS Home - acbhcs.org
Training events listed are for Alameda County BHCS Provider Staff (county units and community-based organizations) unless specified on the announcement for a wider audience.
www.acbhcs.org