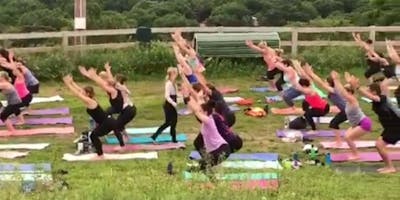 Annual Buck Hill Yoga Fest
Join us for the Second Annual Buck Hill Yoga Fest! 
Help us celebrate the longest day of summer and International Yoga day with a sunset night of yoga, beautiful views and shopping hosted by Nicki Lemmon Yoga.
*Note that the bar (Black Diamond) will not be open this year, feel free to bring your own cooler if desired!
Itinerary
6pm-7pm - Shopping and check in
7pm-7:30pm-  Hike up Buck Hill
7:30-8:30pm Yoga 
8:30pm-10pm Social hour, more shopping!
Shops available:
Athleta- workout apparel
Nik Linde photo- mini sessions
Zyia Active - new athletic apparel and sponsor of Utah Jazz Dance Team
JWintz Bodywork- a new way to treat pain and injury with manual bodywork
YogaBrand/YogaMN- State specific yoga tanks / hats
Drakes Organic Vodka/Run
Big Raven Yoga - Personalized yoga mats
**A registration bag with purchase includes swag and YogaMN t shirt/ tank options. 
Use hashtag #namasteuphere for social media and prizes!