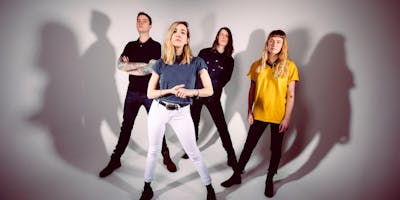 Summer Cannibals, Blushh
This show is 18+ with valid ID
Summer Cannibals
Led by guitarist/vocalist Jessica Boudreaux, Summer Cannibals initially cut their teeth on the local Portland circuit, eventually playing with some their musical heroes including L7, Mudhoney, Stephen Malkmus and the Jicks, and The War on Drugs. In the last year alone they have toured the country with bands like Cursive, Ted Leo & the Pharmacists and Titus Andronicus. Along the way, they released a pair of fantastic full-lengths -- 2013's No Makeup and 2015's Show Us Your Mind — on their own label, New Moss Records. Show Us Your Mind appeared on NPR's Sound Opinions Best of list in 2015 and Pitchfork said that on Full Of It, the Cannibals "expertly balance flame-belching Mad Max riffage with lyrics frankly exploring questions of co-dependence and need." The band has since spent an unhealthy amount of time on the road, earning accolades and adding plenty of fresh converts to their highly-charged, no frills attack.
It seemed only logical that when the band decided to sign to a label, they chose Kill Rock Stars, which has a long history of putting out fearless, female-led bands like Bikini Kill and Sleater-Kinney. Their most recent release, Full Of It, is the band's defining statement to date. Recorded with producer Chris Woodhouse (Thee Oh Sees, Wild Flag), the LP is one of those massive leaps forward that every band hopes to achieve at least once in their career. Somehow Summer Cannibals keep doing it over and over again.
With the band's line up solidified now by long time drummer Devon Shirley alongside the additions of rippers Cassi Blum on guitar and Ethan Butman on bass they are truly a force to be reckoned with.

Blushh
Blushh is what you get after your bjillionthth quarter life crisis: when you realize you've been sitting in the corner your whole life watching the party happen from afar, never saying a word about how you felt, or standing up to grab the last cupcake. Blushh is what you really mean when you shrug it off and say "it's fine", when you roll your eyes and deal with it. Blushh is what you've been wanting to yell at the top of your lungs, but never had the guts to.
Blushh is the project of Shab Ferdowsi who writes fuzzy guitar pop songs about the plants in her bedroom and the like.
Made up of friends, Blushh is a four-piece band all living, playing, and eating $1 tacos in Los Angeles, CA.