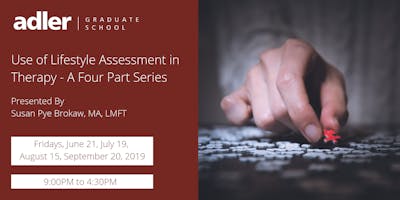 Use of Lifestyle Assessment in Therapy - A Four Part Series - Susan Pye Brokaw, MA, LMFT
This series is intended to help mental health practitioners develop expertise in the use of Adlerian Lifestyle Assessment. It is a series of workshops that will enable participants to use a variety of techniques to identify mistaken beliefs and help the client to modify them. Lecture, demonstration and practice will be used to help participants learn to use this information in therapy, to help clients change.
Participants with active clients are preferred but this is not required. Those who would like to attend that are not practitioners yet can work with an attendee with current clients. 
The workshop is a 4-day series taken over 4 months. Payment arrangements can be made. Register for all 4 days at once for a $50.00 discount or register to make four payments of $99.00.  [for the first day and then each new month's presentation as they occur for $99.00 each.]  Adler Institute for Continuing Education members pay $200.00 for the series and Alumni Association members get one free day, so their fee will be $300.00. Students are free, sponsored by the Student Activity fund. Participants must attend all four days. Single day registrations will not be allowed. 
The dates of the presentations are June 21, 2019, July 19, 2019, August 16, 2019 and September 20, 2019 from 9:00am to 4:30. 
Day One: There will be a brief review of Lifestyle Assessment and why it is an important part of therapy. Participants will learn how to elicit Lifestyle data in the course of doing counseling and therapy and will identify the basic information that must be obtained regarding family constellation and early memories. Following a demonstration, participants will practice using this basic information to identify mistaken beliefs that are directly related to the current problems. One specific method for working with early recollections will be demonstrated and practiced in dyads. 
Day Two: Participants will bring to this session a minimum amount of basic Lifestyle information on a client. A demonstration will show them how to use a technique to identify mistaken beliefs and the fictive goal. There will be discussion about how to involve the client in this process to bring about change in their beliefs and solve their problems. Participants will work together to identify the mistaken beliefs of their clients. They will also learn how parents influence the development of beliefs about the client and others in relationships.   
Day Three: Prior to this workshop, participants will gather a list of attributes from their clients. They will learn the importance of gathering this information and how to identify strengths, attributes, talents and potential talents for use in therapy. They will also learn how these qualities can be used to help the client change and the best approach for the therapist to use in helping the client. There will be a demonstration and group work. 
Day Four: Participants will learn and discuss other influences that affect the lifestyle of the client, including culture, religion, disability, sexual identity, and trauma. These influences may result in mistaken beliefs that need to be addressed. Groups will identify possible mistaken beliefs based on these influences. Participants will also learn how to gently challenge mistaken beliefs throughout therapy and encourage their clients to implement changes based on revised beliefs. Participants will work together to identify ways that they can challenge their clients regarding a mistaken belief that is currently problematic.
Lifestyle Series Outcomes:
Participants will learn why individuals; couples and families don't progress in therapy. 
Participants will learn how to identify mistaken beliefs of their clients that developed in childhood and are now interfering with their ability to solve current problems. 
Participants will learn and practice techniques that can be used in therapy sessions to help the individual, couple or family to recognize and understand their mistaken beliefs and why those beliefs are blocking their ability to resolve their issues 
Participants will learn and practice techniques that will help clients change their interfering beliefs, so that they can resolve the issues that brought them to therapy.