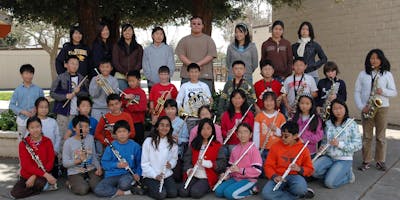 Tri-City Summer Beginning Band 2019
UPDATE 6/1 - The primary registration period has ended. There are only a couple of spaces left in the program. Students may still register, but there are only a few instruments left to choose from. Available instruments are listed in the application. 


---
This summer the Tri-City Band Corps is proud to announce a brand new beginning band music program. Space is limited so register soon!
Age Requirement: Our summer program is designed for students who are incoming 4th, 5th, 6th, and 7th graders with little to no previous music experience. Students who are younger are not yet suitible to join and should check back next year. Students who have more experience are encouraged to join the Hopkins Summer Band Program (https://musicathopkins.com/programs/summer-music-programs/fusd-summer-program/)
Costs: Our program is completely free to all students, though we do highly encourage donations to help us support the cost of renting facilities and paying our music educators who are all local FUSD instructors. It costs us over $5000 to put on this program during the summer, so your support is greatly appreciated. 
Dates: Our 7-week program runs from Monday June 17th through Wed July 31st. 
Location: We will meet at the First United Methodist Church on Washington Blvd. in Fremont, CA
Time: Mon & Wed from 6:00 PM - 8:00 PM
Format: Each week we will have 1 day of sectionals where students will work with older volunteers for specific instruction on their instrument. On day 2, we will meet as a full band and play through music as an ensemble.
Instrument Trial Session: All students will need to attend an instrument trial session on Saturday June 1st. This will help students learn about the different instruments and try each one out in order to determine which ones are best for each student. 

Instrument Requirements: Unfortuantely, TBC is unable to provide instruments for any students. We strongly encourage students to rent instruments to start with from Allegro Music or C&L Music both of which have been supporting FUSD students for years. All students are required to have their instrument every day of class. Students will also need to purchase the Standards of Excellence Book 1 (Red) for their instrument as well as a music stand. 
Attendance Policy: We are very flexible with attendance in this program. We ask that all absences be reported 1 week in advance, but feel free to go travel during the summer and come when you're available. Students with multiple unexcused absences may be dropped from the class. 
Questions? Email us at tbc@tricitybandcorps.org