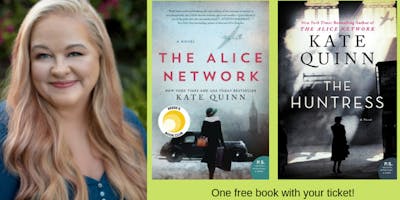 Kate Quinn Literary Luncheon
Meet Kate Quinn at our latest Literary Luncheon!
In the summer of 2017, celebrated actress and noted bibliophile Reese Witherspoon chose a book about a
female-led espionage ring active during World War I for her book club. Titled THE ALICE NETWORK, the book
immediately shot to the top of everyone's reading lists and proved to be the breakout book of historical
novelist Kate Quinn's career. As of January 2019, a little over 19 months since the book hit shelves, over
one million copies of THE ALICE NETWORK have been sold and Quinn has been catapulted into the literary
stratosphere.
Now Quinn is gifting readers with her eagerly-anticipated next novel,THE HUNTRESS—an audacious adventure that crisscrosses continents in pursuit of a notorious Third Reich war criminal. Inspired by the true story of Nazis living in plain sight in post-WWII America, THE HUNTRESS is an even bigger and bolder endeavor twining together three storylines into a sweeping saga. Continuing the tradition of impeccably crafted historical fiction like Georgia Hunter's We Were the Lucky Ones and fusing the moral complicity and accountability of Jessica Shattuck's The Women in the Castle with the female focus and pulse-pounding pace of Martha Hall Kelly's Lilac Girls, THE HUNTRESS is a masterful examination of the human condition—illuminating the consequences of war on individual lives and the price we pay to seek justice and truth.
Your ticket includes a luncheon plate and a copy of either THE ALICE NETWORK or her latest THE HUNTRESS, author presentation, Q&A, and book signing.
What the Critics Say
"...compulsively readable historical fiction…[a] powerful novel about unusual women facing sometimes insurmountable odds with grace, grit, love and tenacity."--Kristin Hannah, The Washington Post 
"Both funny and heartbreaking, this epic journey of two courageous women is an unforgettable tale of little-known wartime glory and sacrifice. Quinn knocks it out of the park with this spectacular book!"—Stephanie Dray, New York Times bestselling author of AMERICA'S FIRST DAUGHTER
About the Author
Kate Quinn is the New York Times and USA Today bestselling author of historical fiction. A native of southern California, she attended Boston University where she earned a Bachelor's and Master's degree in Classical Voice. She has written four novels in the Empress of Rome Saga, and two books in the Italian Renaissance, before turning to the 20th century with THE ALICE NETWORK and THE HUNTRESS. All have been translated into multiple languages. Kate and her husband now live in San Diego with two rescue dogs named Caesar and Calpurnia, and her interests include opera, action movies, cooking, and the Boston Red Sox.