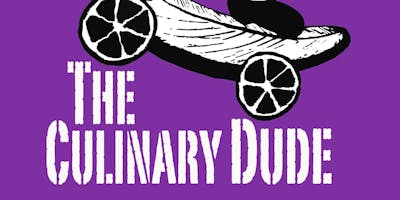 The Culinary Dude's Kids Summer Cooking Camp-Ages-5-14-Pixar Movie Inspired Recipes-5 Days-Tiburon
This session is limited to 16 participants
For this camp session we'll be traveling to South America in UP to Making Ratatouille in France, creating food for Cowboys & Space Rangers from the Toy Story series, eating for energy just like The Incredibles or just plain old down home cooking with Matar from Cars, rest assured that we will not be eating like fish, sorry Memo. Come join in and let cook real food for real kids!
Day 1-UP-Brazilian Garlic Herbed Rice, Cars-Matar's Southern Summer Squash Casserole, Finding Nemo-Baked Seafood Balls, The Incredibles-Broccoli Brownies, Coco-Creamy Mexican Vegetable & Chicken Pasta
Day 2-Inside Out-Joy's S'mores Creation, Ratatouille-Remy's Amazing Soup, Brave-Irish Soda Bread, The Incredibles-Spaghetti w/Turkey Pesto Meatballs, The Good Dinosaur-Grilled Vegetable Salad.
Day 3- The Incredibles-Grilled Wow & Sun Butter and Banana Sandwiches, Brave-Irish Potato Candy, Toy Story-Cowboy Beans, Brave-Veggie Shepard's Pie, Cars-Shrimp & Grits.
Day 4- Coco-Make your own Tacos, Guacamole & Salsa, UP-Arepas w/Black Bean & Citrus Slaw, Toy Story-Stampede Casserole, Monsters Inc.-Dessert Sushi
Day 5-Inside Out-Sadness's Comfort Mac & Cheese, Toy Story-Space Balls, Brave-Veggie Shepard's Pie, UP-Cheese Pupusas, Cars-Motor Oil Chicken
Our hands-on cooking camps will enable kids to find their inner chef. The Culinary Dude has created a wonderful collection of daily menus that the kids will cook themselves. Using the fresh ingredients, fun and interactive cooking techniques, the kids will prepare meals from scratch each day as they learn kitchen and food safety, professional kitchen etiquette, measuring ratios, prep skills, and table manners. In addition to a wide variety of tactile recipes, kids will participate in additional food-related activities. All camps include lunch for all campers. We offer a variety of cooking camps throughout the year with a wide array of themes. We are a nut-free business and use sunflower seeds, SunButter & Wowbutter as a nut replacement unless otherwise requested. Your children are not numbers to us! Unlike other programs who just want your money, our focus is to cater to each child individually, help them where they need improvement and cap our class numbers to keep the class intimate, so your child does not get lost in the masses and feels like they are truly a part of the whole.
The kids will be working together during the morning and afternoon to create their lunch for that day. Each meal includes a main dish, side dish, vegetable or fruit dish and a dessert. We will be creating up to 6 recipes.

MENU COMING SOON
Early Bird Sign Up- $425-SOLD OUT
Early Bird Sign Up #2-$450
Regular Price-$470
Single Day Sign Up-$120

Early Drop Off care from 9am-10am at $15-After Camp care from 2pm-3pm at $15

Both AM & PM will be offered for $25 a day OR $100 for AM & PM all 5 days