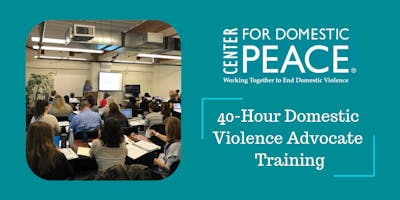 40-Hour Domestic Violence Advocate Training
"I can't reccommend this course highly enough. I have grown so much in my own life and perspectives in the last 2 weeks." - Past Training Participant
---


IMPORTANT: Please Note that the 40-Hour Training Spans 5 Dates:
Monday, June 17, 9AM-5PM
Wednesday, June 19, 9AM-3PM
Friday, June 21, 9AM-5PM
Tuesday, June 25, 9AM-5PM
Saturday, June 29, 9AM-5PM
All training dates take place at our administrative office, at 734 A Street, San Rafael 94901.
As this is a certification, prompt attendance is mandatory for each training day in order to receive the 40-Hour Training Certification. Make-up days will be available at the following training in January of 2020.
---


Become a Certified Domestic Violence Advocate!
Through the 40-hour training program that Center for Domestic Peace offers, volunteers learn practical, hands-on skills in peer counseling, crisis intervention, assessment, and advocacy for women.





This training incorporates the most recent research and thinking in the field, and includes such topics as: history of the battered women's movement, analysis of patriarchy, other popular DV theories, why women stay, techniques for stopping violence, and leadership for creating intentional communities of safety and justice.










Volunteers completing Center for Domestic Peace's 40-hour training program become State of California Certified Domestic Violence Counselors, as defined by the Office of Justice Planning and mandated by Evidence Code 1037.1(a).







---
IMPORTANT INFORMATION:
Ticket and fee includes full 5-day training curriculum, training workbook, and downloadable materials. A light breakfast/snacks will be provided and there is a half hour break for lunch each day.
Registrants will be expected to be present with a laptop or tablet (charged and ready) each day of training.
If you would prefer to register by mail-in check, please select "mail-by check" during check-out.