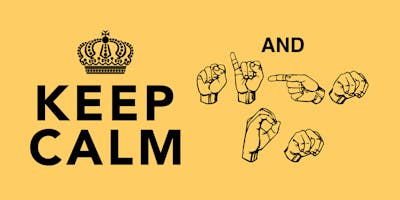 Brio's Beginner ASL 10 Week Course
Keep Calm and Sign on.
Learn a new language, a visual language – American Signing Language with Lawrence Simeone. If you have never signed before and want to know how, this is the course for you. In this fun and engaging our small group you will signing in no time.
The Beginner American Sign Language will be taught by ASL teacher, Lawrence Simeone.
Course is at Brio's Studio and will run consecutive Monday for 10 weeks.
This course is for students with no ASL background. We will learn the alphabet and words.
Open to the public, all ages and abilities. Limit 12 participants.
10 classes starts May 13th and ends July 22,  6:15PM-7:15PM (except May 27 Memorial Day)
Suggested Donation: $5.00 per class or $50 for the 10 classes.
Lawrence Simeone
 graduated University of Vermont in 2014 with a Bachelor of Science in Psychology. During his college, he took American Sign Language and has been in love with it since. Larry has also volunteered in the past for various organizations dealing with Special Needs Children and Adults from Gymnastics to Equestrian Sports.