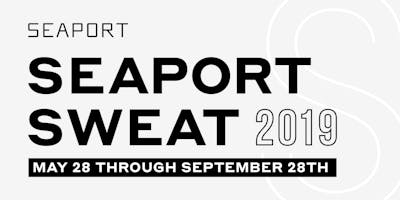 Seaport Sweat | Broncore Bootcamp
Boston's biggest free outdoor workout series Seaport Sweat is back for its fourth season. This year, the community driven series will offer even more variety with new classes, new instructors, and a mid-day session for moms. This program is brought to you by @seaportbos.
Class Description
"Zero Boredom. All Sweat." BronCore Bootcamps are the perfect mix of high intensity cardio, core, strength and are an absolute blast. Each class begins with a dynamic warm up followed by rounds of wind sprints, plyometrics, core challenges, Tabata and more, followed by a cool down of static stretching and relaxation.

About Bron Volney
BronCore Fitness is a boutique-style physical training and boot camp company, founded in 2012 by Bron Volney. A native Floridian and life-long athlete, Bron began a career in weight training at the age of 17. Through his own fitness competition training, Bron learned firsthand how the human body can be transformed through proper exercise and nutrition. Bron holds a B.S. in Exercise Science from Florida State University and a NASM personal training certification and was named Boston's Hottest trainer in 2013 by Details magazine. [@broncorefitness]