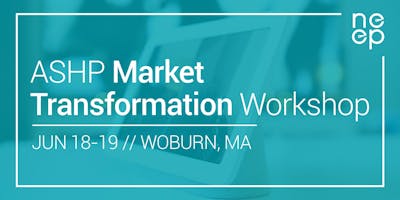 Air Source Heat Pump Market Transformation Workshop
Northeast Energy Efficiency Partnership (NEEP) invites you to a workshop to explore how the region, and beyond, can work collaboratively to accelerate the adoption of Air-source Heat Pumps (ASHP) and Variable Refrigerant Flow (VRF) systems. These renewable heating and cooling technologies are increasingly seen as important solutions to a low-carbon future in the Northeast and Mid-Atlantic region and beyond. These technologies, and others, will transform the way we heat and cool our homes and businesses.
This event will convene a diverse group of key stakeholders from across the ASHP/VRF markets, including manufacturers, program administrators, installers, technology experts, state/local policy makers, and others to coordinate effective implementation of regional market transformation strategies. Market Transformation strategy reports for ASHP and VRF , developed through NEEP's ASHP and Smart Controls Initiative, provide frameworks of key strategies for stakeholders to discuss, explore and debate.
More details on the agenda on NEEP website here.
If you want to stay informed on NEEP events and publications, make sure to subscribe to our newsletters here.