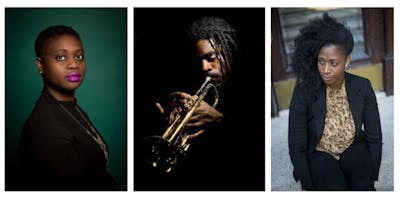 GroundBeat: AfroDesiaCity at the Hatch Shell
The Esplanade Association presents the first night of GroundBeat: the Esplanade's free riverfront music series -- AfroDesiaCity at the Hatch Shell
AfroDesiaCity will celebrate Juneteenth's commemoration of African American freedom and emphasize education and achievement. ADC will highlight some aspiring artists who are locally-based such as Ms. Ashley-Rose, an Haitian-American educator, organizer, actress and award-winning poet from Boston accompanied by musician Akili Haynes (Horns), and Melissa Alexis, an actress and performing artist.
The musical ensemble "Four on the Floor" will keep the stories of African American people alive through memorable tunes like Earth, Wind, and Fire's "September", Chaka Khan's "Tell Me Something Good", and Rick James's "Give It To Me", musically directed by George Russell III and produced by AfroDesiaCity.
All events in the series will feature food trucks, games, and new seating!
ABOUT GROUNDBEAT
As part of GroundBeat, the Esplanade's FREE Riverfront Music Series, each month from June to September, the Esplanade Association will partner with a different local nonprofit to showcase a diverse set of performers and musical styles in an effort to promote local live arts and to attract audiences of all backgrounds to the park. Learn more at Esplanade.org/GroundBeat