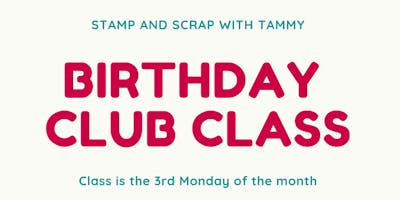 June Birthday Club Class
This fun class is all about Birthdays!   The class fee includes $15-20 in product, 6-10 projects, dinner, and dessert. Class cost is $28.  Each month features a new product suite
Purchase 5 out of 6 months and pick your choice of stamp set for FREE, any value!!  The "To Go" version of this class also will get the FREE stamp set when purchasing 5 out of 6 months.
RSVP one week prior to the event.  If you are unable to attend but have signed up your projects and product bag will be held for you to pick up.
NEW TO GO OPTION
***All Birthday Club classes are able to be shipped for an additonal $7.95 and will include pictures of the projects or written tutorials if needed.  Stamp Sets are not included in the class fee but can be purchased separate.  Typically we use one stamp set that can be easily replaced with one you may already own. Club classes will be shipped within 5 days of the live class.  Payments must be reiceieved one week prior to the live event, kits will not be sent until payment is recieved.  Payments can be made by check or by  the payment option within the Eventbrite site.  When mailing payments please make note of the event you are purchasing and your mailing address.
My mailing Address to send payments
Tammy Nelson 
373 Carol Court, North Mankato MN, 56003