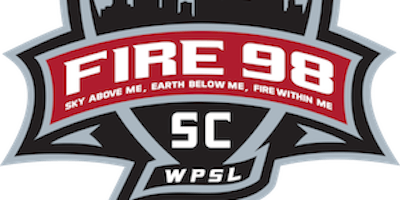 2019 FIRE SC 98 WPSL Season and Single Game Tickets
(TO PURCHASE SEASON TICKETS PICK ANY DATE AND THEN SELECT THE SEASON TICKET)
FIRE SC 98 returns to the Women's Premier Soccer League (WPSL).  The 2018 North Conference FRANCHISE OF THE YEAR will continue to provide you exciting attacking style on the field and a complete game day experience off the field. New for the season will be fans joining the team on the field post game to meet the players and thank them for a great display of athleticism and skill. 
The WPSL is the world's largest womens soccer league with over 115 teams each season in the US and Canada.  FIRE SC will play in the North Conference of the Heartland Division.
WPSL HOME SCHEDULE:
June 2 vs Maplebrook Fury 5:15PM KICKOFF
June 9 vs Salvo SC 7PM KICKOFF
June 16 vs Dakota Fusion (Fargo, ND)7PM KICKOFF
June 23 vs Rochester FC 7PM KICKOFF
July 30 vs Mankato United 7PM KICKOFF
Each game will feature exciting WPSL action.  Half time contests.  Youth mini games, concessions and more.  Come out and support your local soccer talent.

GROUP AND TEAM TICKET PACKAGES AVAILABLE CONTACT ALEX @ 763-614-7360 FOR MORE INFORMATION