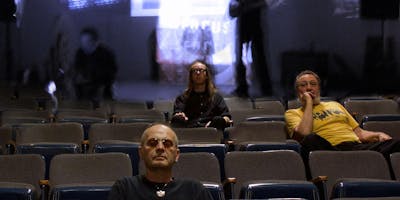 Grale, Bruce Anderson
Grale is a Bay Area-based ensemble comprised of legendary avant-rock band MX-80 Sound members Dale Sophiea and Bruce Anderson, and Gregory Hagan (Angel Archer, Thomas Carnacki).
Grale has performed around the Bay Area since 2007 at Berkeley Arts, ATA, The Oakland Underground Film Fest, and, on a number of occasions, at the Pacific Film Archive / Berkeley Art Museum with thematic riffings on the films of directors Ken Russell, Guy Maddin, and the 1972 anti-classic Beware! The Blob.
Grale's debut release, Eternity, represents where the evolution that started with MX-80 Sound's Hard Attack has led, more than 40 years hence (not the path many expected it to take...).
Guitarist Bruce Anderson will start things off with a solo set, then Gregory Hagan and Dale Sophiea will join the fun for a Grale set.
Tickets are $15 and are available at the link below, or you may purchase your tickets at the door the night of the show. Doors open one half hour before show time. We accept cash only at the door (ATMs are nearby). Children under 12 are free.

The Back Room is an all-ages, BYOB (for those 21+) space, dedicated to (mostly) acoustic music of all kinds. You are welcome to bring your own adult beverage with no additional corkage fee. If you need more information or have any questions, please call us: #510-654-3808. Thank you for your support!