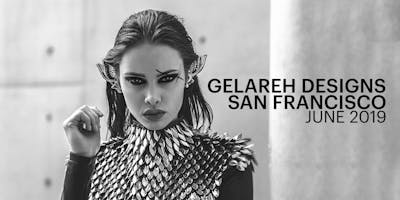 FUTURE FASHION :: A Pre-Playa / Wearable Art Pop-Up feat. Gelareh Designs
(NEW STARTING DATE: JUNE 8TH)
WHO WEARS GELAREH?
The empowered ones. The ones who feel like they have confidence. When someone is empowered, the realm of what is possible for them in their lives grows with no limit. Those who wear Gelareh are already powerful. They aren't afraid to push boundaries. They are those that are gifted, compassionate, and inspired. My pieces only help to showcase their self-confidence to the world. There is no perfect man or woman to wear Gelareh. Anyone can wear my art; big or small, large or skinny-- if you believe in yourself, if you believe in your own expression and seek to empower yourself, you can wear Gelareh.
::
Five and Diamond SF x Gelareh Designs are coming together once again to curate a mind-blowing avant-garde shopping experience in the Bay Area...

This JUNE at the fantastic boutique that is Five and Diamond (510 Valencia St) experience the wondrous, mystical and dark beauty that is Gelareh. You have to see it to believe it. The magic of her pieces can only be understood first-hand....

Select pieces from her newest collection, LEMURIAN, will be featured. DO NOT miss out on this ephemeral pop-up!