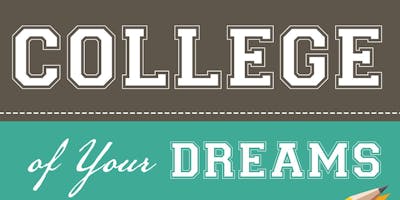 FREE 90-minute seminar to help you navigate the college admissions process: "Love Yourself, Love College, Love Life: Matching Your Authentic Voice to Your Perfect Fit Schools in the College Application"
Does applying for college feel overwhelming?

Are you wondering how you'll find the right school?

Do you have numerous options, but they all seem out of reach?
Believe it or not, applying for college should be fun. This is an opportunity to embrace who you really are, identify the things that bring you joy, and explore the different paths awaiting you. Once you've completed a process of self-discovery, you'll be able to find colleges where you'll thrive—and show admissions officers why admitting you actually meets THEIR needs.
On Friday, June 16th from 2:00pm-3:00pm at the Palo Alto Arts Center (1313 Newell Rd, Palo Alto). David Montesano, President of College Match US, and Robin Pool, former Princeton admissions officer are hosting a FREE 90-minute seminar to help you navigate the admissions process: "Love Yourself, Love College, Love Life: Matching Your Authentic Voice to Your Perfect Fit Schools in the College Application."
WHAT YOU'LL LEARN:
In the seminar, you'll learn how to identify your individual SPARKS, FIRE, VISION, and BRAND and turn them into a compelling story. You'll get insider tips on choosing the right school for you—colleges where you'll truly engage and thrive. And you'll discover how to meet a college's needs so that admissions officers will be EAGER to let you in.
Participants will also learn about College Match Summer Application Academy, where David and Robin offer students and their parents intensive admissions coaching over four days in one-on-one and small-group settings (more information below).
Space is limited, so students and parents should email their RSVP to david@collegematchus.com as soon as possible to reserve a place. The first 15 contacts to respond will receive a free 20-minute consultation on SAT/ACT standardized testing strategy. 
Register for the FREE seminar today and learn how you can find—and get into—the college of your dreams!
The first 15 seminar registrants will receive a FREE 15-minute consultation, including suggestions on how to:



Bolster academic weak spots




Refine the "core identity" of your application




Target strategic summer activities




Maximize SAT/ACT study strategy




Uncover hidden honors and distinctions




Find colleges looking for students like you




Build better relationships with recommenders



David Montesano is founder of College Match U.S. In 2019, for the 20th year in a row, 95% of David's clients applying for admission to colleges secured places at their first-choice college or university. Furthermore, a majority of David's clients won merit scholarships averaging $83,000 per student over four years—the largest amount among students whose awards are being measured. Termed a "new breed" of college admissions consultant by The Washington Post/Newsweek, David has contributed to articles in The New York Times, U.S. News & World Report's "Best Colleges" publication, Forbes, CBS Moneywatch, Seattle Magazine and Newsweek/Daily Beast. Appearances include Stanford Business School, USC, CBS-TV, Fox News, and on radio shows and webcasts, Boston's College Week Live. David is the author of two books—"Brand U: 4 Steps to the College of Your Dreams" and "Stand Out to Get In!"—in which he details his Montesano Method for college admissions. http://www.collegematchus.com
Robin Pool served as Admissions Officer at Princeton University. With 20 years of experience in college admissions, advising more than 3,000 students and reading 12,000 essays, Robin's unique psychological approach leverages the college admission process to stimulate her students' personal growth, self-knowledge, and life-management skills.