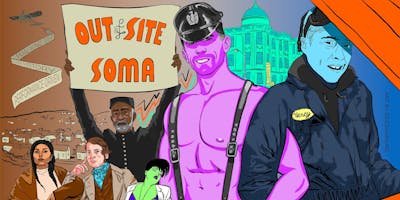 OUT of Site: SOMA

OUT of Site: SOMA is a performance-driven *walking tour, placing audiences in the physical spaces of LGBTQ2+ ancestors. For centuries, the SOMA district has been a catalyst for radical change and a stronghold for queer and activist organizing. Come walk with us through the hidden histories of SOMA: from Native American Two-Spirit culture to the Folsom Street Fair, Lesbian auto-mechanics to labor activists, dock workers to drag queens. Rediscover the neighborhood once known as Happy Valley, and come OUT in the streets with us. With Kai Brothers, Maria David, Brian Freeman, Marga Gomez, Ryan Hayes, and Landa Lakes.

OUT of Site SOMA takes place on the traditional, unceded territory of the (Ramaytush Ohlone) people, known today as the (Muwekma Ohlone Tribe). We recognize their sovereignty, as there are no treaties on these lands, and we are dedicated to building a new relationship between our nations based on respect and consent.


*Identified as a "walking" tour we acknowledge different needs around mobility and strives to be all-inclusive and realistic within a moving event. Please be in touch so that we may support you in joining us.
The tour includes both indoor and outdoor spaces and the sidewalks of South of Market, San Francisco. There are no stairs or hills to climb on the tour and there are places to sit and rest at a few of the stops. Anticipated distance is 1+ mile
WE NEED VOLUNTEERS
Support and see the show in exchange for volunteering. Contact production (at) eyezen (dot) org

DONATE
Unable to attend? Please consider a contribution to Eye Zen Presents and elevating the stories of unsung queer ancestors. http://www.eyezen.org/donate
THANKS TO OUR SUPPORTERS
Artwork by DESIGNNURD