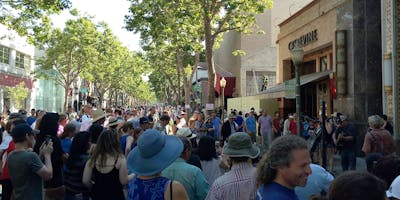 Palo Alto World Music Day 2019
Palo Alto World Music Day
Sunday June 16, 3:00-7:30 pm, University Avenue
(closed to traffic, open to pedestrians and fun!!)
The City of Palo Alto has declared Sunday June 16th  as World Music Day.  World Music Day is a free music festival that takes place in cities around the world every year close to the Summer Solstice. 
Now for the eleventh year in Palo Alto, 50 professional and amateur musical groups will perform a wide variety of musical genres: jazz, pop, rock, classical, world music, choral, folkloric dances, etc. 
All performances are FREE and open to the public.  
For more information, or to volunteer please visit www.pamusicday.org or e-mail info@pamusicday.org   
Please invite all your Bay Area Facebook friends to go to Palo Alto World Music Day 2019
https://www.facebook.com/events/2460045960732708/