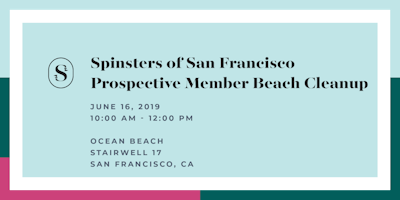 Spinsters of San Francisco Prospective New Member Beach Clean Up Volunteering
Interested in joining Spinsters of San Francisco? Have questions about our organization? Want to meet the fantastic women of SOSF? 
We invite you to volunteer with the Spinsters of San Francisco. 
When: Sunday, June 16th, 2019
Where: Ocean Beach Stairwell 17 
Across the street from the Beach Chalet
Time: 10:00 am- 12:00 pm 
Please wear comfortable clothes and shoes that you don't mind getting dirty! If you have gloves- feel free to bring them! (In the event that it rains, the beach clean up is canceled.)
Volunteer with other prospective members and the Membership Selection Committee to learn everything you need to know about Spinsters of San Francisco. Please RSVP using the EventBrite link. Beach clean up with Surfrider volunteering fulfills the charity requirement for membership eligibility. Learn more about volunteering to clean up the beach here. 

If you'd like to learn more about us please check out our website, facebook and instagram!

We encourage you to complete our membership application prior to attending which can be found here. 
Questions? Contact Membership Recruitment Director, Karen Snider.