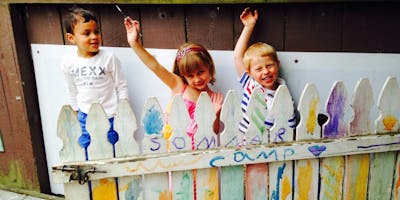 Scandinavian School Summer Camp 2019 - Culture and Language Program (Age 3-10 )
Bring Scandinavia to your children - sign up for Scandinavian Summer Camp!
The Scandinavian School offers 4 weeks of Scandinavian Summer Camp open to all Scandinavian children in the Bay Area. 
The Scandinavian language and cultural program will focus on language learning through play, art projects and have different themes every week. The Scandinavian cultures will set a frame for the activities and the children will celebrate Swedish and Danish Midsummer, discover different Scandinavian foods and get familiar with Scandinavian arts and crafts. An organic lunch and afternoon snack is included. Children signed up for extended care, will also be served breakfast. If your child has not yet turned 3 years old, but is currently attending our pre-school as a "Goldfish", you are naturally welcome to sign up your child.

You can sign up for the core program (9AM-3PM) or add extended hours (8AM-5.30PM). Please note that extended care is based on availability and might not be available to be added on at a later date.  
It is also posible to mix the two camps the school is offering by i.e. booking one week at the Outdoor Bus Camp and two weeks at the Cultural and Language Camp.
Please note that the camp is non-refundable.
Dates                                                                    Theme
June 17-21                                                           Dance, music and Scandinavian Midsummer
June 24-28                                                           Scandinavian Food
July 29- Aug 2                                                      Scandinavian Arts
August 5-9                                                           Lego
 Please note the themes are subject to change, depending on the availability of staff.
Program
8 - 9 AM:   Breakfast and drop off for extended care
9 - 11.30 AM :  Projects
11.30 AM: 100% Vegetarian and Organic lunch
12 - 12.45 PM:  Rest and recess
12.35 - 2.30 PM: Projects continue 
2.30 - 3 PM: Snack time
3 - 5.30 PM: Extended care continues