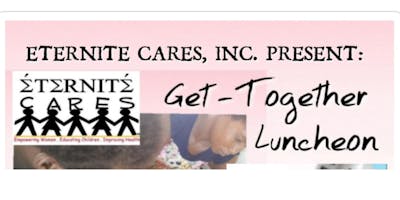 GET-TOGETHER LUNCHEON
GET-TOGETHER LUNCHEON by ETERNITE CARES, Inc.
The purpose of the Get-Together Luncheon is an opportunity for us to reinforce bridges among women leaders and businesses in your community. This event is dedicated to gathering women together across cultures for networking, business, social, fun and moral support regardless of their background, race, nationality or role in society.
We look forward to seeing you and you friends, please contact us at EterniteCaresBoston@gmail.com
Regards,
 Dorothy Theodore,
Founder & Executive Director
ETERNITE CARES, INC. 
Held at Tamboo Lounge ● 252 main St, Brockton, Ma ● EterniteCaresBoston@gmail.com
EAT | MEET | GREET at the Get-Together Luncheon | 12:30PM – 2:30PM | Register online or Email us
 https://www.facebook.com/EterniteCares/
ABOUT ETERNITE CARES, INC.
ETERNITE CARES is a boston bases not-for-profit organization focuses on empower women and youth with hands on vocational education training programs and life skills through sewing, entrepreneurship, market visibility and business leadership to socially & financially disadvantaged but leadership ability promising women and youth everywhere, especially in Boston, Haiti and the Dominican Republic.
At ETERNITE CARES, we provide women and girls with the tools they need to build an independent life. We provide specialized leadership training to help women and youth develop careers in fields such as fashion design, merchandising & business process.
With your help we can do more. Please join us in helping women and youth earn vocational skills so they can become economically independent and productive citizens of the world.
Thanks to our supporters, we have impacted over 300 lives of women and youth.
Please continue to support us through our events and Donation.
Paypal:EterniteCaresBoston@gmail.com
ETERNITE CARES, INC.                                                                                                                               
Sponsor Opportunity for our quarterly Get Together 2019
Are available, contact:
Dorothy Theodore, 617.599.2007
☐ March 17, 2019                                                  ☐ June 16, 2019
☐ September 15, 2019                                          ☐ December 15, 2019