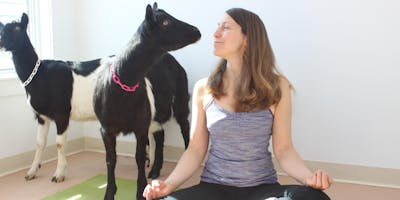 Baby Goat Yoga
Are you ready for an Oxytocin boost? Would you love to spend a morning laughing? 

Baby Goat Yoga is our new offering in the spring of 2019. Folks have long asked us to offer baby goat yoga. Now we have a new barn and have lots of space as well as lots of baby goats.

Join us Saturday mornings at 8:45 and 10:30. On Sundays we start at 10:00 am. We will have a 50 minute yoga class with baby goats present, taught by a certified yoga instructor. The class will be followed by 20 minutes of bottle feeding and cuddling with the kids.

Wear clothes that you don't mind getting dirty. It's also a good idea to wear your hair up since sometimes goats like to nibble on hair. Goats do their business wherever and whenever they please, but we'll take care of that part. We will also provide the yoga mats! 
This class is appropriate for childer ages 10 and up. 
Attendees can recieve refunds 7 days in advance.