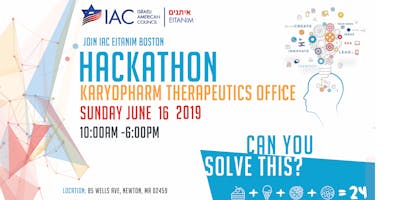 IAC Eitanim - Boston Hackathon 2019!
WANNA WORK IN START-UP COMPANY FOR ONE DAY? Let us give you the chance!
THE 1ST IAC EITANIM BOSTON HACKATHON!
New-England teens- Join us for an amazing full day (8 hours) Eitanim experience!
1 day // 1 task // 7th-12th graders
Make new friends * Be part of a team * Create a new project * Connect to Israel * Reach skills for life
------
JUNE 16 , 10:00am-6:00pm @ the beautiful Karyopharm Therapeutics office space
Each student can invite 2 guests for the Shark Tank event @ 4:45 PM to watch the final presentations. The Judges will make their desicion and the winning team will win a prize!
We will have 10 teens particpants that come all the way from Israel, espically for the Hackathon!
------
IAC Eitanim is an innovation and entrepreneurship program that exposes young teenagers to Israel through project making, all hands on with the guidance of mentors from our community. The participants learn important skills such as teamwork, presentation skills, 21st century work tools, business tools and more. They work in small teams and create a project- starting from research, through developing an idea, all the way to presenting it to the attendees! This event will give you a taste of the amazing Eitanim program.
We invite you to take part in a special day where 7th-12th graders from New-England will create a project in small groups, learn about Israel in fun way and meet a lot of new friends! This is an amazing opportunity to lead a start-up. 
COME AND BE PART OF SOMETHING BIG!
*The price includes lunch and snacks, T-shirt and other cool swag.
------
IAC generally takes photos at its events.  By attending this event you give us permission to use the photos you appear in on our website, social media channels or for other marketing purposes. Please notify us if you are uncomfortable with this policy.
------
Contact person: 
Shmuel Hugi, Shugi@Israeliamerican.org 
Learn more about IAC Eitanim & Visit our website.