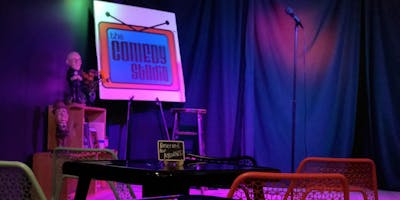 Somerville Festival of Dad Jokes: A Food For Free FUNdraiser!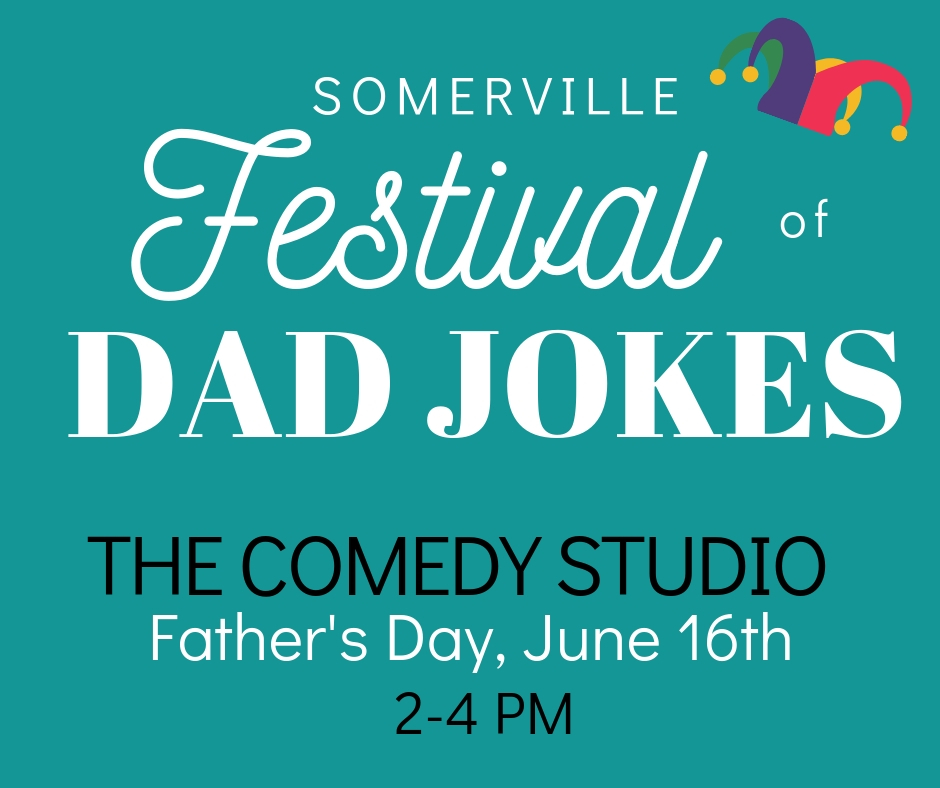 Somerville Festival of Dad Jokes
A family-funny event for dad joke lovers of all ages
Father's Day Sunday June 16th 2-4pm
A fundraiser for the Somerville Weekend Backpack Program
Hosted by Food For Free and the Comedy Studio
$20 to compete, $10 to watch! (Kids 12 and under are our guests!)
If you think you are funny but your family doesn't or you're not a dad but you tell jokes like one, we want you! 
Join us on Father's Day for a good laugh as we celebrate the art of the "Dad Joke." Bring your friends and family to enjoy good food, drinks, and humor at Bow Market's eateries, shops, and the Comedy Studio! 100% of ticket sales will go to support the Somerville Weekend Backpack Program.
Bring your "best" dad jokes to the festival to compete for our "Pop Corn" Awards and bragging rights. We do not provide laugh tracks so bring your families and friends to cheer you on. Sign up in advance to be a dad joke-ster! (Sign up here: https://bit.ly/2QirfG0)

About the Somerville Weekend Backpack Program
Food For Free's Somerville Weekend Backpack Program sends home two lunches, two breakfasts, milk, and fresh fruit with Somerville students facing food insecurity. The food is discreetly packed in the students' backpacks each Friday afternoon, ensuring that students are better prepared to learn the following week. The Somerville Weekend Backpack Program is now available to every single elementary and upper school student in Somerville Public Schools.
About Food For Free
Food For Free improves access to healthy food within our community by rescuing food that would otherwise go to waste, strengthening the community food system, and creating new distribution channels to reach under-served populations. We envision a future where everyone in our community—regardless of age, income or ability—has consistent access to fresh, healthy, delicious food. Our current focus is on using schools and colleges to address student and family hunger.
About the Comedy Studio
The Comedy Studio in Union Square has cemented its reputation as the area's top laugh lab. It's also earned a solid reputation among industry heavyweights as a "must-visit" club for anyone seeking cutting-edge performers or writers for future television projects. The Comedy Studio - no better breeding ground around.
---
The Comedy Studio is located on the 2nd floor of Bow Market in Union Square, Somerville, MA and is open Mondays through Sundays. 
Variety, our lounge bar serves housemade cocktails, mocktails, beer, and wine.
Seating is assigned. If you would like to be seated with another party under a different name, please call 617-661-6507 or email communications@thecomedystudio.com to make arrangements. Please arrive on time!
For more info, call us at 617-661-6507 or email us anytime!
Directions - Our NEW address is at:
1 Bow Market Way #23, Somerville, MA 02143

The entrance to the courtyard where we're located is actually on Somerville Avenue, right on the corner of P.A.'s Lounge. There is street parking available.
For public transportation, both the 86 and 87 MBTA buses have stops nearby, and there is a Rideshare dropoff point right in front of the courtyard driveway for both Uber/Lyft.

When you walk into the courtyard, feel free to take the stairs (straight ahead) up to the second floor, or go to the common lobby area (on the right side of the courtyard) and take the stairs/elevator up to the second floor. We are located right above Remnant Brewing on the second-floor walkway- you will see the Variety and Comedy Studio sign entrance amongst the windows! Call us if you have trouble finding our spot! - 617 661 6507!
See you soon!