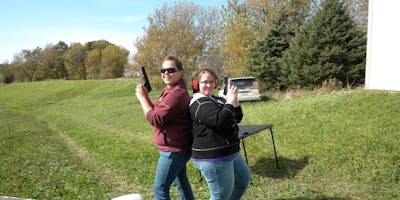 FATHER'S DAY, PERMIT TO CARRY CCW, Multi-State Pistol Class
Are you confident?
Do you like to try new things?
Do you want to stay safe?
Then this stress-free friendly class is open to both women and men. Our safe, professional jargon-free class appeals to both people new to firearms and experienced shooter of any gender. We feel so strongly that this is the most approachable, friendly, stress free class available, we offer an UNCONDITIONAL MONEY BACK GUARANTEE! If you feel this class isn't the best class you can take, or are not satisfied for any reason, you will receive a no questions asked full refund.  
This class is the class featured on the front page of the Mankato Free Press 
The purpose is to ensure that you are safe, responsible and are protected. It is about being aware, avoid, de-escalating, and if all the above fails defend against threats.
Taught by a college professor in a calm, safe, and sane environment.  
Class is ALL INCLUSIVE your registration covers lunch (Godfather's Pizza and Salad Buffet and soft drinks), range fees, rental firearms, ammunition, multi-state certification (including Florida) and required supplies. All this for the low rate of $80. 
You can register either online here or calling 507-382-1167.
The class will take approximately 5 hours from start to finish, the lecture portion is in the restaurant, the shooting test will be conducted at Vantage Point Range in Kasota, approximately 5 miles away.
You do not need to own a pistol, you can use a "loaner gun" and ammo, all required materials are included in the ticket price.
This is a Multi-State Class for Minnesota, Florida, Wisconsin and other states' Conceal Carry Education Requirements.
For more information check out our website at: www.mankatoguns.com