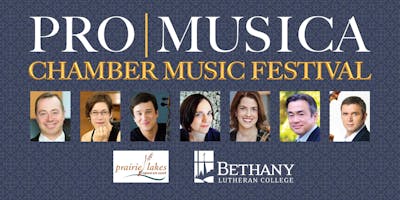 ProMusica Chamber Music Festival, Mankato, MN
ProMusica brings a series of chamber music concerts to the Greater Mankato area this June 2019!
Purchase a festival pass online, which gives you admission to all four concerts (3 ticketed, 1 free admission). You may choose any date in the "select a date" tab. The pass is good for ALL concert dates. Attending just one or two of the concerts? Tickets will also be available at the door for each individual concert: 


General Admission -$15 per concert


Student Admission - $5 per concert


Visit ProMusicaMN.com for more information about all four concerts:
Inaugural Recital, Sunday, June 16 at 3 p.m.
Emerging Young Artist Recital, Monday, June 17 at 7 p.m. (free admission)
Circle of Friends, Wednesday, June 19 at 7 p.m.
C Minor Moods, Friday, June 21 at 7 p.m.