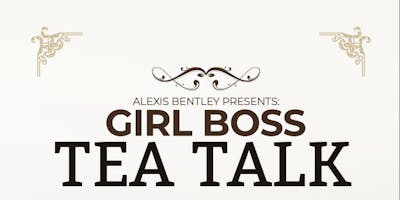 Girl Boss Tea Talk W. Alexis Bentley
This is the year where things are coming full circle! We are bossing up and we are doing it with Tea. 
I've always wanted to host a tea party and what better way to celebrate my 27th birthday than doing just that. 
Joining us will be:
Host: Faythe Missick (Author)
Guest Speaker: Lisa Moy (Radio Personality)
Keynote Speaker: Angel (Manager of Watch Jazzy & Toya Turnup)
These powerhouse women have some amazing stories and are going to share their secrets to GIRL-BOSSING 101
**Unlimited tea & food will be served | Bubbly, Mimosa's, Beer & Wine available for purchase**
This Girl Boss Talk is TEA you dont want to miss!
"My dear, here we must run as fast as we can, just to stay in place. And if you wish to go anywhere you must run twice as fast as that." - ― Lewis Carroll, Alice in Wonderland