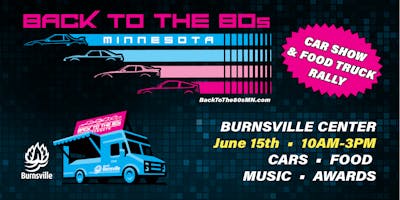 Back to the 80's Car Show & Food Truck Rally 2019
Welcome to the best decade in the history of decades & the ORIGINAL Car Show & Event to celebrate it!

This is an ALL-Inclusive auto event - Ford, Pontiac, Chevy, Dodge, Nissan, Mazda, Toyota, Jaguar, Porsche, Ferrari...if it was made in the 80's, bring it out!  Whether domestic or imported, car, truck or bike, showroom stock or modified to the point of being unrecognizable - we want YOU there.  If you drove it wearing blue eye shadow or acid-washed jeans, we want to see it! (The eye shadow is optional this time around).  Even if it's your rusty project car, or daily driver (we really do love those things) -  If it was made in the 80's... bring it out!

In addition to the cars, you'll be entertained by Top 80's Music, a Costume Contest, a T-Shirt Cannon, and a Variety of Supporting Sponsors!
---
We're partnering with the City of Burnsville for 2019 to bring a Food Truck Rally to Back to the 80s - 2019!
The City of Burnsville is sponsoring a Food Truck Rally, which will bring several food trucks on site, as well as alcoholic and non-alcoholic beverages available for purchase.
[Food Truck Inquiries should be directed to dean.mulso@burnsvillemn.gov or 952.895.4653]
---
But what about my 1979...  or my 1992...?  We're looking for cars that truly represent the 80's, and this show is to be more fun than technical, the essence of 80s.  If your late-70's vehicle was produced into the early 80's, or if your vehicle began production (even off-shore or prototyping) in the 1980's and carried into the early 90's (example: 3rd Gen F-Body & Fox-Body Mustangs, etc), it's allowed too.  We're pretty flexible though, so if you're not sure - just ASK!

In the end, we'll still leave the voting up to participants, we think our attendees know what they want to see in the Best of the 80's!
---
Each Pre-Registration is for 1 Display Space at the Burnsville Center  [Southeast Parking Lot, between JC Penny's & Sears - near entrance #2] for the duration of the show, and a goody bag with Dash Plaque (for the first 200 registrants*).  Event T-Shirts are sold separately, and are available for pre-order during pre-registration.

Parking is currently non-classed: first-come, first-served.  If you wish to park with others, please arrive together.  Parking spots will not be held.

Food will be available for sale on the premises during the event.  Participants can bring their own food and/or drinks - no glass or alcohol are allowed.
Trophies will be awarded for: Best In Show, Spectator's Choice, and separate classes* for imports, captive imports, and domestic cars, trucks, & motorcycles - by way of popular vote during the show.   *Organizers reserve the right to alter class structures up until the day of the event, to be determined by vehicle registration demographics.

Gates open @ 9am.  Voting will take place from 10am-1pm.  Awards presentation @ 2:30pm.
---
Shirt pre-orders will ONLY be available online until May 15th, 2018 (a limited number of shirts will be available the day of the show).   Pre-Registration will remain online until June 13, 2019.  On-Site Registration the day of the event will be $20/car, and only a limited number of shirts will be available.  Refunds for pre-registration & shirt orders can be requested until May 15th, 2019.  After that date, refunds may not be issued. This is a rain or shine event - refunds will not be issued for weather or "Acts of God".  *Quantities are subject to change by the organizers at any time. 
Please note that purchasing a shirt does not automatically include car registration. Shirts are purchased separately from registration, but can be added to the same order.

Pre-register now to ensure your spot at the event!

---
Hotel Reservation Information!
We will be reserving a block of rooms nearby, for your convenience.  More details to Follow!
---
---



* * * * SPONSORSHIP INFO * * * *




Important Information
Sponsorship/Vendor Fees are non-refundable. The money raised will be used toward the purchase of the event awards, banner printing and the various costs incurred with running a larger car show.  This will be a rain or shine event. We are committed to the event date, event location and event participants.

Goodie Bags!
We will be giving out a limited amount (300) of goodie bags for our show participants on a first-come-first-serve basis. If you would like to include item samples, business cards, or other information to share with the participants, we would be happy to include these items for all levels of sponsorship.  Items need to be delivered to BTT80s no later than Friday June 7th to be included.

Vendor Booths!
Spaces are limited to a 10x10 (10x20 for Gold Sponsors) canopies anchored to the ground with ballast or weights. Ground penetrating stakes are expressly forbidden by the venue regulations.  Booth spaces will be on a level blacktop surface. There are limited spaces available. If you are interested in this option, please contact us to reserve a space. No fees will be assessed by Back to 80's MN or the Burnsville Center for any sales during the show.
---

Ask us about BIG Sponsorship Opportunities in Partnership with the Burnsville Center Marketing Team!

---