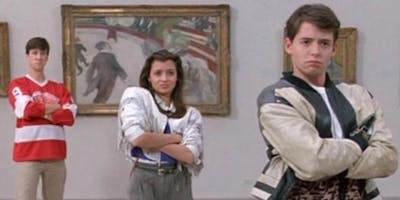 Ferris Bueller's Day Off (Concord)
Food Truck Cinema is more than an outdoor movie it's a comprehensive experience combining gourmet Food Trucks, local live music, and pop culture films. We are bringing back the community atmosphere of neighborhood movie houses. Food Truck Cinema is creating a combined atmosphere that will make the audience want to return. All of this on the lawn in a safe, comfortable, cozy, picnic atmosphere. Food, Music, and Movies independently have worked for years put them together and you have a spectacular night of entertainment. (A killer combo if you will!)! 
Blending hot, fresh, gourmet food with live local music, and a great pop culture film is the vision of Food Truck Cinema. Recognizing the need for great entertainment Food Truck Cinemas founders George Marshall & Dan Bieber decided to bring this great combo to Roseville. Dan & George have operated Legends at Woodcreek and the Woodcreek Golf Club since 1995. Their experience in Food and Beverage and event production dates back over 30 years.