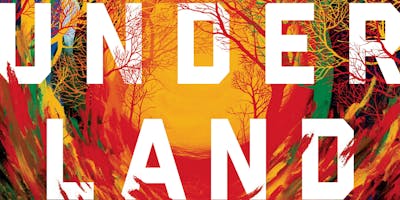 Robert Macfarlane and Rebecca Solnit
Robert Macfarlane, who has been called the "greatest nature writer of his generation," makes a rare West coast visit to celebrate the publication of his masterpiece, Underland. 
Rob will be joined in conversation by writer, historian, and activist Rebecca Solnit.  
About Underland:
Hailed as "the great nature writer of this generation" (Wall Street Journal), Robert Macfarlane is the celebrated author of prize-winning books about the intersection between the human and the natural world. In Underland, he delivers his masterwork: an epic exploration of Earth's vast subterranean landscape in myth, literature, memory, and the land itself.
Delving into what is known as "deep time," the dizzying expanses of geologic time that stretch away from the present, Macfarlane takes us on an exhilarating journey to Arctic sea caves, Bronze Age burial chambers, the catacombs of Paris, the underground fungal networks through which trees communicate, a dark matter research lab searching for the origins of the universe, and a deep-sunk "hiding place" designed to store nuclear waste for 100,000 years to come.
Global in its geography, contemporary in its concerns, and written with great lyricism and power, Underland uncovers our complex, crucial relationship with the worlds beneath our feet.
About Robert Macfarlane:
Robert Macfarlane is the author of the prize-winning books Mountains of the Mind, Wild Places, and The Old Ways. He has contributed to "Harper s, Granta, The Observer, The Times Literary Supplement, " and the "London Review of Books." He is a Fellow of Emmanuel College, Cambridge.
About Rebecca Solnit:
Writer, historian, and activist Rebecca Solnit is the author of twenty books on feminism, western and indigenous history, popular power, social change and insurrection, wandering and walking, hope and disaster, including a trilogy of atlases and the books The Mother of All Questions, Hope in the Dark, Men Explain Things to Me; The Faraway Nearby; A Paradise Built in Hell: The Extraordinary Communities that Arise in Disaster; A Field Guide to Getting Lost; Wanderlust: A History of Walking; and River of Shadows, Eadweard Muybridge and the Technological Wild West (for which she received a Guggenheim, the National Book Critics Circle Award in criticism, and the Lannan Literary Award).
A product of the California public education system from kindergarten to graduate school, she is a columnist at Harper's.