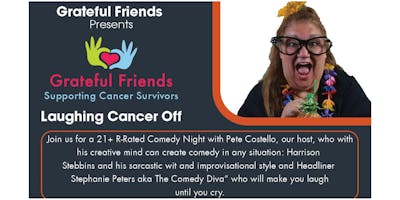 Laughing Cancer Off
Join us for a 21+, R-Rated Comedy Night with Pete Costello, our host, who with his creative mind can create comedy in any situation:  Harrison Stebbins and his sarcastic wit and imorovisional style and Headliner Stephanie Peters aka "The Comedy Diva" will make you laugh until you cry.
Limited menu available as well as cash bar.  
There will be a 50/50 raffle to help raise funds for Grateful Friends to support adults living with or going through cancer treatments. 
For more information about Grateful Friends, visit us at www.gratefulfriends.com.