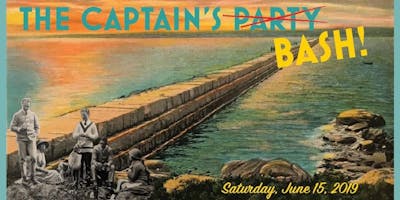 The Captain's Party

The 2019 Captain's Party will bring together more than 300 party-goers for the Museum's annual fundraising event, set for Saturday, June 15, from 6:00 to 9:00 pm. A time-honored tradition, The Captain's Party has long been the kick-off to summer on Cape Ann.
This year, the evening will include festive music, sumptuous treats from Timothy Hopkins Catering and more! Funds raised support the Museum's educational programs, exhibitions and community collaborations.
Individual tickets:$150 
Please consider joining as a sponsor of this event. Opportunities to participate as a Captain's Party Sponsor are available at the $500, $1,000, $2,500, and $5,000 levels.
THE CAPTAIN'S BASH
About the CAPTAIN
In 1804, Gloucester-born Captain Elias Davis (1756-1821) completed construction of the three-story Federal style home, the Captain Elias Davis House, now part of the Cape Ann Museum. In celebration of his birthday, the Museum annually hosts the Captain's Party, its largest fundraising event of the year.
About the BASH
In the early twentieth century, Gloucester's own Leslie Buswell, A. Piatt Andrew, Henry Davis Sleeper, and John Hays Hammond were well-known for their alternating house parties."On calm evenings in a curious quiz of musical sophistication"*, neighbors would hear their music cast across the water and know a bash was stirring. (The acronym, of course, was inspired by their surnames).
*Garland, Joseph E. (1999) Eastern Point. Beverly, MA: Commonwealth Editions.

THANK YOU TO OUR SPONSORS
$5,000 Patron
John F. Haley, Jr. and Anne Rogers Haley; John Rando

$2,500 Benefactor
J.J. and Jackie Bell; Stephen and Jill Bell; Steph and Clem Benenson; Caroline and Charles Esdaile; Garth and Lindsay Greimann; Tom and Kristin Zarrella

$1,000 Contributor
Karen Bell and Robert Cox; Bettie Cartwright; Linzee and Beth Coolidge; Stephen and Nina Goodick; Harvey & Martin, PLLC; Ipswich Bay Advisors; William and Janet James; Anne and Bill Kneisel; Elieen and Joe Mueller; Susanna Natti and Alan Willsky; Margie Pearson; Joe and Maggie Rosa; Hinda Simon
$500 Friend
Hope and Robert Bachelder; Glenys and Kermit Birchfield; Deborah Blake; Kevin and Rose Bottomley; Dr. & Mrs. Peter Coakley; Jim and Leslie Hammond; Pam and Rob Irwin; Diane Chen Koch-Weser; Nancy and Bill Lynch; Jenifer and Dan McDougall; Allison and Joe Mueller; Jack and Judy Shields; Peter and Thi Linh Wernau
Cover photo: Detail of a historic photograph (Leslie Buswell collection) and postcard from the collection of the Cape Ann Museum Library & Archives.