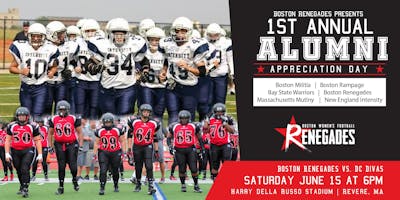 Boston Women's Football Alumni Appreciation Day
Calling all of our Storm, Mutiny, Intensity, Warriors, Rampage, Militia and Renegades Alumni!
Come support your Boston Renegades as they take on their arch rivals the DC Divas in their last regular season home game. We will be celebrating our Alumni who have helped pave the way for Boston Women's Football!
Alumni are invited to join us for a pre-game tailgate party at 3:30pm | Boston Renegades vs DC Divas Kick off will be at 6:00pm 
Please RSVP to be entered into a raffle. Registerred attendees will get a ticket, prizes to be drawn at 5:30pm. Must be present to claim your prize.