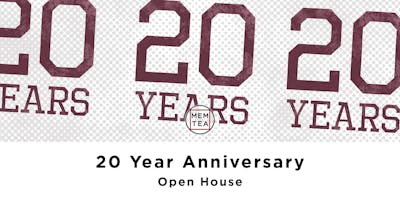 20 Year Anniversary MEM Tea Open House
COME ONE - COME ALL
Help us celebrate our 20th Anniversary by visiting our retail store in Davis Square for an afternoon of free samples and demonstrations. Our tea shop hosts a bevy of events every week that provide our retail customers (you) with the opportunity to get to better know MEM Tea and tea itself.
Drop by and sample teas from around the world. We will have hot tea samplings and a cold brew station as well as tea latte and matcha demonstrations. Check out our unforgettable wall of tea and learn lots of fun and inventive ways to make tasty tea beverages at home.
THIS IS A FREE EVENT!
20 Year Specials To Take Advantage of During the Event:*
1. Spend $50 and get a classic English style 16oz Cambridge teapot for free!
2. Make a purchase and use the secret password "Happy 20th birthday MEM" at checkout and you'll receive a free sampler box featuring our 13 best selling teas!
These specials are only available in shop and during the 20 Year Anniversary MEM Tea Open House event.
---
MEM Tea Imports has been sourcing, blending, and distributing teas from around the world since 1999. We serve over 500 restaurants, hotels, cafes, and bakeries in Boston and beyond. Education and Training is an integral part of our program and is gaining public appeal. We offer comprehensive seminars about origins of tea, tea processing, tea preparation, and tea and health.

In our tea seminars we sample all of the major tea varieties; White, Green, Oolong, Black, and Pu-Erh, as well as an assortment of Herbal infusions. We explain the various types of processing methods and their impact on the flavor profile and health benefits of the tea. This fun and informative seminar can help highlight teas for your own enjoyment based on the flavor and benefits they provide.

Tea is a versatile beverage and is becoming an increasingly popular ingredient at chef's tables, local bakeries, and behind your favorite bar. See what the hype is all about and feel good too by joining us for tea and conversation.
---
NOTE:
MEM Tea reserves the right to cancel an event due to unforeseen circumstances at any time.  If MEM Tea cancels an event, registrants will be notified via email and given a full refund.  In the event of a cancellation, events will be removed from memteaimports.com and Eventbrite.  

There will be no refunds issued for customer absences or customer cancellations made less than 24 hours prior to the event.  Tickets redeemed with Frequent Steeper cards are subject to forfeiture if cancellation is made with less than 24 hours notice.
We encourage photography and social media! That being said, you might be photographed by another attendee or our staff photographer. If you are uncomfortable with having your photo taken, don't be shy, let everyone know.
If you have any allergies, please inform the teacher prior to the beginning of the class.
Enjoy yourself & have fun.