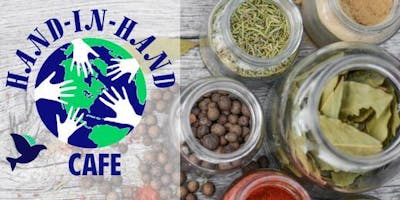 Hand-in-Hand Cafe - Community Dinners
Welcome to Hand-in-Hand Cafe!  The June dinner is sold out - It's amazing and gratifying to have sold out almost a month ahead of the dinner.  If you want a ticket, please contact me so I can put you on a waitlist - nomirose2880@gmail.com - I will be reaching out to ticket holders to contact me if their plans change.
We do have three dates for dinners in the fall:  September 21st, November 23rd and December 21st.  Tickets will go on sale for those dinners in July or August.  If you don't get a ticket for June, please try again for a fall dinner!
About us: Hand-in-Hand Cafe is a monthly community dinner at First Parish Church in Lexington.  Partnering with First Parish Lexington, LexRAP (www.LexRAP.org) has hired refugee women to cook meals inspired by their homelands.   Dinners will be both alcohol and nut free and all meat served will be Halal.  There will be a vegetarian option at each meal.  At the dinner, there will be music and the opportunity to chat with the cooks and learn about their food and culture.
Hand-in-Hand Café has had a successful inaugural season!  The dinners have been delicious and the cooks and guests have truly enjoyed themselves.  
Thank you,
Naomi